Create your free At risk of redundancy letter
How it works
Create your document
Download
& Print
Sign &
Make it Legal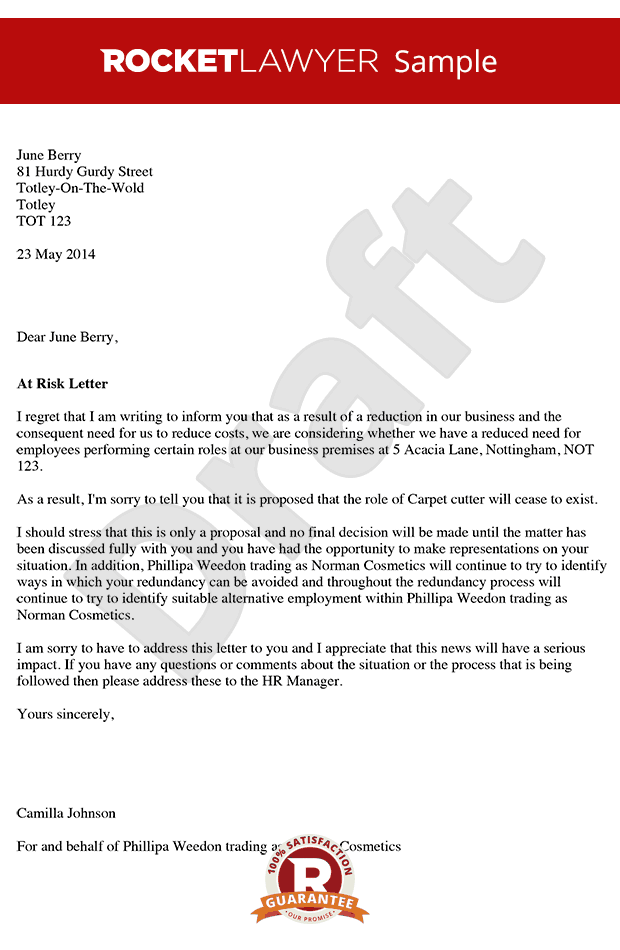 Overview of the At risk of redundancy letter
This document is GDPR compliant.
Start your redundancy process correctly using this at risk of redundancy letter. When considering employees for redundancy you should make sure the proper process is followed and that employees remain informed at all times. Use this risk of redundancy letter to sensitively explain to employees that their job may be at risk due to a number of specified business reasons and what will happen next.
When to use
Use this letter:
if you are planning to make one or more (but less than 20) employees redundant
as the first step in the redundancy process when you are making multiple people redundant or if there is a need to perform a selection exercise
if the redundancy will involve more than one job title or redundancy pool, prepare a separate letter for each
You do not need to use this letter if you are just making one employee redundant who is a unique role and there is no element of selection.
What it covers
This letter covers:
the business reason for the proposed redundancy
the nature of the redundancy
the fact that the recipient of the letter is at risk of redundancy
the redundancy pool (if relevant)
the basis of selection (if relevant)
invitation for the employee to comment on the selection process
confirmation that individual consultation will occur
confirmation that ways to avoid redundancies will be sought, and
invitation for volunteers for redundancy
What is an at risk of redundancy letter?
An at risk of redundancy letter is a formal letter informing employees that they are at risk of being made redundant due to specific business reasons.
Why do I need a letter informing employees of the risk of redundancy?
Informing employees of the risk of redundancy shows that you are following a fair and consistent redundancy procedure and that you are concerned about employees' welfare. It ensures employees are aware of the situation at an early stage of the process, and gives them the chance to explore alternative options before being made redundant.
Can alternative employment solutions be looked for after sending this letter?
Yes,this letter is not the final redundancy decision, and alternative employment solutions can still be looked for throughout the whole redundancy process.
What's the next step after sending an at-risk of redundancy letter?
If you are planning to make more than one person redundant, the next step should be the selection process, whereby you will select the redundant staff objectively, through clearly defined selection criteria. For more information read Redundancy pooling and selection before going forward with redundancy.
Further advice
where a woman on maternity leave is being made redundant
for collective redundancies (ie where it is proposed that 20 or more employees will be made redundant within a 90 day period)
for employees based outside England and Wales
This letter is governed by the law of England and Wales.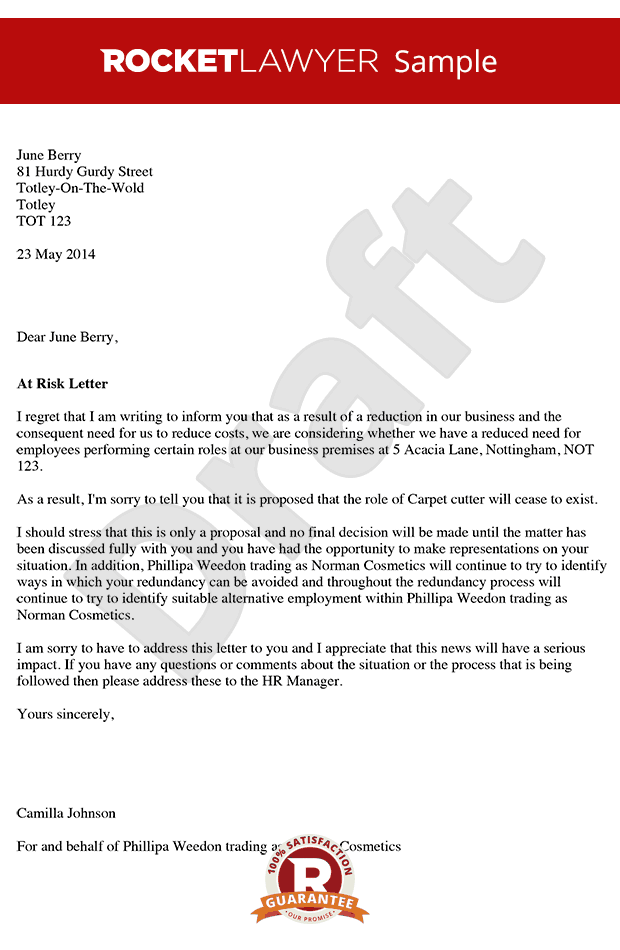 View sample
Sample At risk of redundancy letter
More than just a At risk of redundancy letter template, our step-by-step interview and guidance makes it easy to create your document.
Easily create online, download, print and sign your free At risk of redundancy letter in minutes.
This document is also sometimes called: Letter informing employee of the risk of redundancy.