Create your free Commercial lease
How it works
Create your document
Download
& Print
Sign &
Make it Legal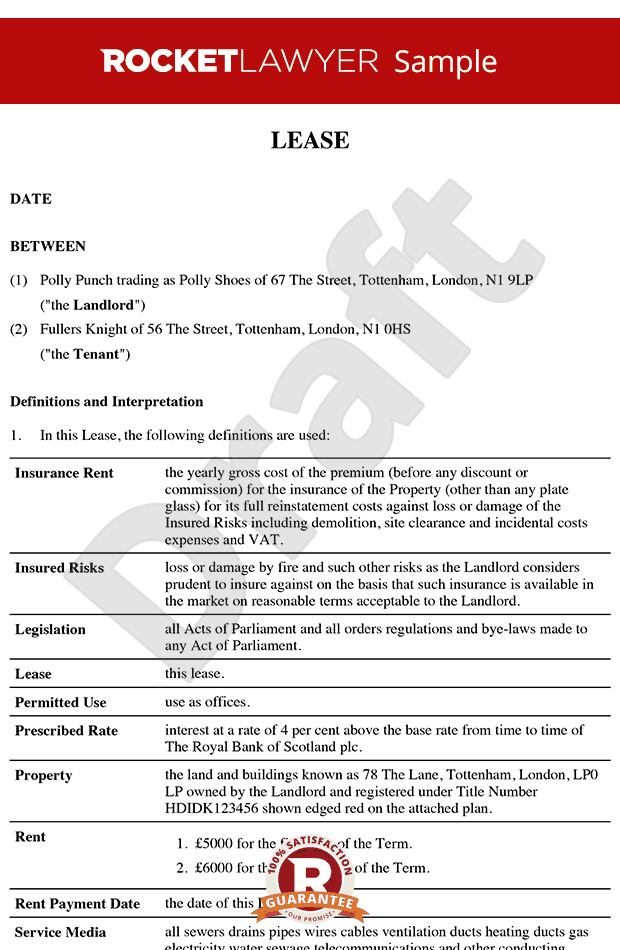 Overview of the Commercial lease
Rent out a whole building to a business using this commercial lease. This full repairing and insuring lease helps to regulate the relationship between landlord and tenant up to a maximum of three years. Clearly set out a tenant's obligations including repairing and maintaining the building using this FRI lease. This full repairing lease allows for assignment and subletting of the whole premises and allows for exclusion of security of tenure. It also allows the tenant or landlord or both to break the lease within an agreed time period.
When to use
Use this commercial lease
if you are the freeholder of a whole building and want to rent out the whole building as:
an office
a warehouse for storage
a shop, or
a restaurant or café
to grant a lease of the whole of the property to another
to protect yourself and record the tenant's obligations in respect of the use of the property
What it covers
This commercial lease covers
the rent to be paid
the tenant's responsibilities
the landlord's responsibilities
an optional break clause
security of tenure so that the tenant does not have an automatic right to stay at the property at the end of the term
What's a commercial lease?
A commercial lease is an agreement between a landlord and a business for the rental of a property. It allows a business to use a property for commercial purposes, and it sets out the rights and obligations of the landlord and tenant.
Why do I need a commercial lease?
You need a commercial lease if you wish to carry on your business in a specific space. A commercial lease frames the relationship between landlord and tenant, and outlines the business purposes for which a property can be used. A carefully written commercial lease is essential to carry on your business properly, because as a tenant, you can only use the property for purposes that have been specifically set out in a 'permitted use of premises' clause.
How does a commercial lease differ from a residential lease?
A commercial lease is used for business purposes, whereas a residential lease is used for the rental of a home. A commercial lease is usually subject to more negotiation than a residential lease, but offers less protection to the tenant, because they do not personally reside inside the property. In particular, commercial leases are not subject to most consumer protection laws that govern residential tenancies, eg caps on security deposits or rules protecting a tenant's privacy.
What's an FRI lease?
An FRI (full repairing and insuring) lease means that all costs of maintenance, repair and insurance are born by the tenant.
What is 'security of tenure'?
Security of tenure gives the tenant the right to remain in the property, i.e. to renew their tenancy when their lease comes to an end. Short-term commercial leases are usually 'excluded' from the statutory right to a new lease when the current lease ends. For more information see Security of tenure.
How can the commercial lease be terminated?
A commercial lease may include a provision known as a 'break clause', which allows either party to end the lease early if the relevant notice provisions in the lease are met.
Further advice
if part of the property is residential or if there is more than one commercial tenant in the building
on agreeing a term sheet (heads of terms) detailing the key points of the lease before you start
on how to complete your lease once it is drafted
if the whole of the property is residential
if you want to let the property for longer than 3 years
if you want to allow your tenant to have the automatic right to stay in the property at the end of the term
This commercial lease of the whole property is governed by the law of England and Wales.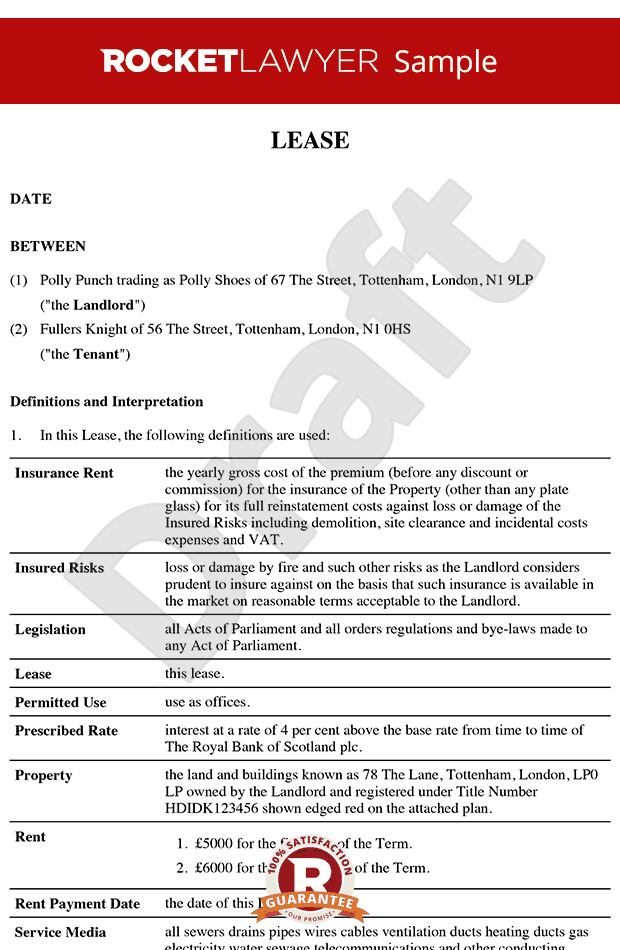 View sample
Sample Commercial lease
More than just a Commercial lease template, our step-by-step interview and guidance makes it easy to create your document.
Easily create online, download, print and sign your free Commercial lease in minutes.
This document is also sometimes called: FRI Lease, Full Repairing and Insuring Lease, Commercial lease agreement and Commercial lease terms.