Create your free Data protection and data security policy
How it works
Create your document
Download
& Print
Sign &
Make it Legal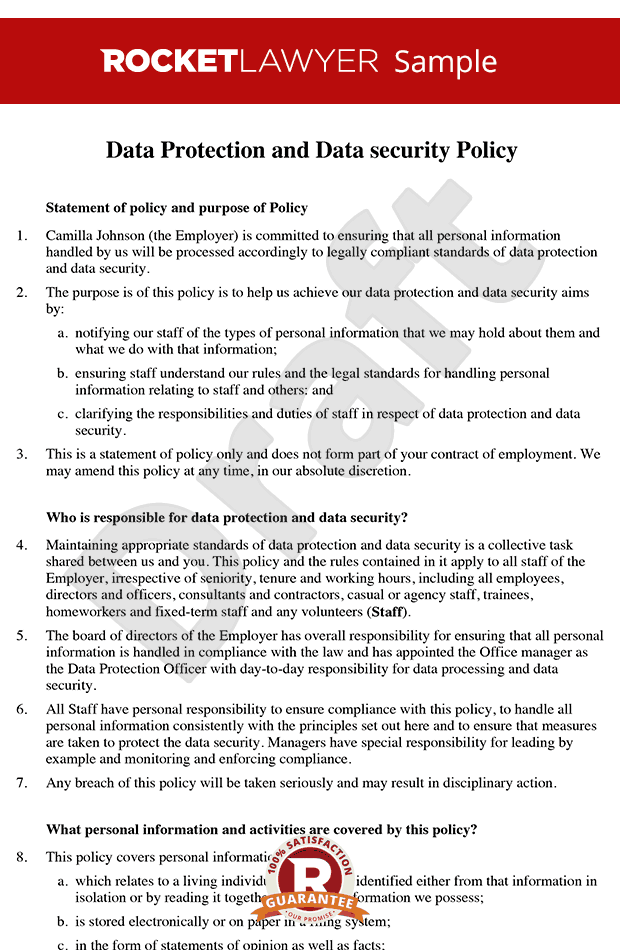 Overview of the Data protection and data security policy
See to it that you satisfy your legal obligation to notify staff about your use of their personal data as well as their use of client's personal data with this data protection policy. Proper data security rules will instil confidence in your clients and employees and help protect you from any mishandling of personal data. This data protection policy template outlines the responsible parties, the sorts of data covered, and the essential protection measures for the security of personal data.
When to use
Use this data protection and data security policy
to inform staff about your use of their personal data, as required by law
to educate staff about the principles they must adhere to in handling personal data
to help comply with your duty to protect the security of personal data, by informing staff of necessary measures
What it covers
This data protection and data security policy covers
who is responsible for data protection and data security
what kinds of data are covered by the policy
the types of data collected by the employer about staff
the uses the employer makes of data concerning staff
transfer of data overseas
principles that must be adhered to in handling personal data
measures to protect the security of personal data
subject access requests
What is a data protection policy?
A data protection policy is a comprehensive document that sets out the policies and procedures a business will comply with when dealing with information and data.
Why do I need a data protection policy?
A written data protection policy is not a requirement of the Data Protection Act (DPA). However having a data protection policy ensures that your business has a systematic approach to comply with any laws and regulations. It will help inform staff about their duties and makes it clear the procedures for collecting, storing and processing data.
Do I need to comply with the law?
If you collect, store and use personal data relating to employees, customers or other individuals you will most likely need to comply with the DPA. Read our guide on Data protection for more information.
What does the DPA cover?
You must comply with the DPA if you or your staff process and use personal data. Personal data means data which relate to a living individual who can be identified from the data or from other information from that data.
What should the data protection policy cover?
A general data protection policy should cover all the principles under the DPA. These are known as the 'data protection principles' and you must make sure the information is:
used fairly and lawfully
used for limited, specifically stated purposes
used in a way that is adequate, relevant and not excessive
kept for no longer than is necessary
kept safe and secure
not transferred outside the European Economic Area (EEA) without adequate protection
Other things the policy should include are contact details of the person(s) responsible for taking the lead on compliance, staff responsibility for personal data, information on procedures dealing with both internal and external access requests and how the information collected is used by the business.
How do I implement the data protection policy?
By creating this practical document and making sure it is readily available for staff and customers to read, it will be incorporated into your business. It should be readily available to staff to refer to when they need data protection advice.
You can also include it in your employee handbook for employees to read and attach it alongside any terms and conditions so customers can refer to it.
Who should I appoint to be responsible for compliance?
You should appoint someone with the appropriate authority to take the lead on data protection. They should be someone familiar with data protection and the DPA and someone who regularly audits the business' use of personal data.
Do I need to allow individuals to see what data I have on them?
Yes - Under the DPA if you hold personal data about an individual you must give a copy of the information you hold on them if they request it.
What happens if I don't comply with the DPA?
Non-compliance with the DPA can result in heavy fines for the business and an investigation from the Information Commissioner's Office (ICO).
Further advice
Ask a lawyer for:
changing an existing data protection policy that is contractually binding
advice on the use of covert monitoring in the workplace
issues where employer's use of employee data may infringe their right to privacy or relates to information about what they do outside work
This data protection and data security policy is governed by the law of England and Wales.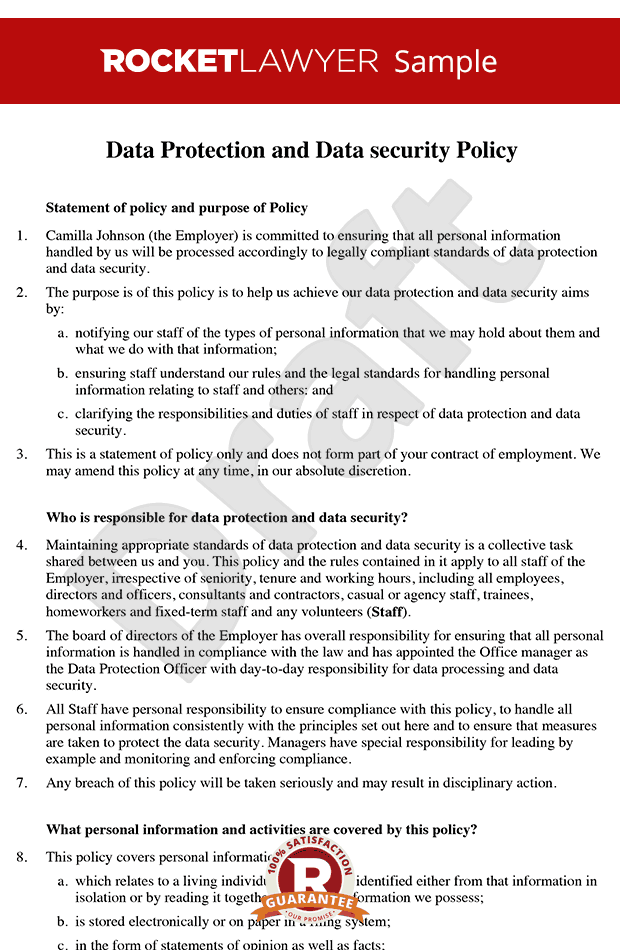 View sample
Sample Data protection and data security policy
More than just a Data protection and data security policy template, our step-by-step interview and guidance makes it easy to create your document.
Easily create online, download, print and sign your free Data protection and data security policy in minutes.
This document is also sometimes called: Data protection statement, Data protection agreement and Data protection policy.