Create your free Equal opportunities policy
How it works
Create your document
Download
& Print
Sign &
Make it Legal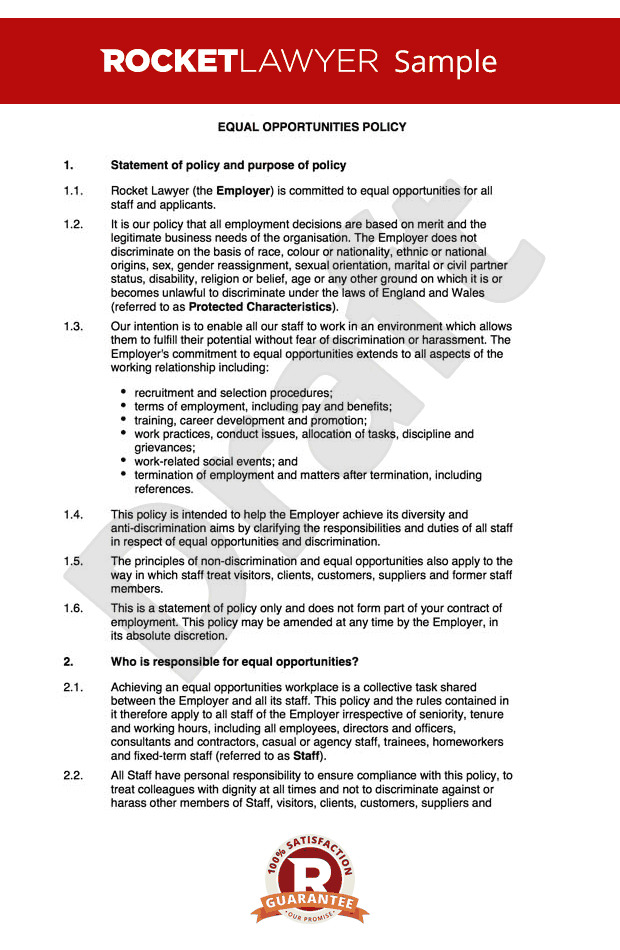 Overview of the Equal opportunities policy
Show a commitment to equal opportunity and diversity within the workplace with a clear and fair equal opportunities policy. A responsible employer wants employees to know that its decisions within employment, recruitment, progression and dismissal are based solely on employee merit and employer need. This equality and diversity policy covers all forms of unlawful discrimination, harassment and victimisation at work, and contains sections on training, adjustments for disability, monitoring, grievances and sanctions.
When to use
Use this equal opportunities policy
to help you fulfil your legal duty not to discriminate, harass or victimise as an employer
to inform employees and managers about equal opportunities
to explain what will happen if employees don't comply with rules about equal opportunities
only for employees based in England and Wales
What it covers
This equality and diversity policy covers
aims of the policy
who is responsible for equal opportunities and the special role of managers
different types of discrimination and examples of prohibited behaviours
arrangements for disabled workers
avoiding discrimination during recruitment and throughout the employment relationship
what to do if discrimination is discovered
possible sanctions for breach of this policy
What is an equal opportunity policy?
An equal opportunity policy is a document that states what measures a business takes to eliminate and prevent discrimination at workplace.
Do I need an equal opportunities policy?
Displaying an equal opportunities policy shows commitment to equal opportunities within a workplace. It ensures that employees and managers are informed about equal opportunities and explains the consequences of non-compliance to the policy.
Who is responsible for equal opportunities within the workplace?
This policy should be implemented, resourced, monitored and reviewed at work by those in a senior position such as the owners of the business, chief executives or board of directors. Employer should also appoint a manager who has the responsibility of monitoring and implementing the policy on everyday basis.
Rocket Lawyer's equal opportunity policy allows you to name a person with day-to-day as well as overall responsibility for the policy.
What are 'protected characteristics' and why are they important?
Everyone in the UK is protected by the Equality Act 2010. The Equality Act 2010 specifies 9 protected characteristics. These are: age, sex, race, disability, pregnancy, marital status, sexual orientation, gender reassignment and religious background. Discriminating against workers and employees because of any of the nine characteristics is against the law.
This document allows you to choose the protected characteristics that apply to your organisation.
What are the types of discrimination set out in this policy?
Discrimination can come in one of the following forms:
direct discrimination occurs when a worker or employee is being treated less favourably than others due to being associated with one or more protected characteristics
indirect discrimination occurs when an employer puts rules and equality arrangements in place that apply to everyone, but then put someone with a protected characteristic at an unfair disadvantage
harassment occurs when someone's dignity is being violated through unwanted behaviour linked to a protected characteristic creating offensive environment for them
victimisation occurs when someone is being treated unfairly because they have complained about discrimination or harassment
disability discrimination occurs when someone with disability is directly or indirectly discriminated and when an employer fails to make reasonable adjustments to reduce disadvantages caused by disability
This document protects all of forms of discrimination mentioned above and explains the scope of each one.
What aspects of the working environment are affected by equal opportunities?
The law protects you against discrimination at work, including avoiding unlawful discrimination in the process of:
dismissal
employment terms and conditions
pay and benefits
promotion and transfer opportunities
training
recruitment
redundancy
However, you may choose to opt out from monitoring equal opportunities as part of recruitment process.
This document allows you to choose whether you will actively monitor equality during recruitment.
What is the procedure for reporting discrimination?
The Rocket Lawyer employer's grievance procedure sets out how to report discrimination. Any employee who observes or is aware of acts that they believe may amount to discrimination should report it to appropriate person or department.
This document allows you to appoint a person to whom a worker or employee should report discrimination to.
What are the consequences of not complying with an equal opportunity policy?
If an employee doesn't comply with equality opportunities policy, they may be subject to disciplinary action. Noncompliance with the policy may lead to dismissal of that person with immediate effect. This applies to every single employee including those who hold senior positions. In some circumstances, employees may be personally liable for discrimination and some acts of discrimination may result in legal action and criminal offence where the harassment was intentional.
An employer will be jointly responsible for any acts of discrimination carried out by an employee unless they can show that they have done everything they could to prevent it.
Is there a legal requirement to train staff on equal opportunities?
It is highly recommended to train staff on equal opportunities, however, it is not a legal requirement. Managers responsible for recruitment or handling grievance and disciplinary matters are the most likely to be the subject of discrimination allegations, and therefore should be trained on equal opportunities.
This document allows you to choose whether equal opportunities extends to training as well as recruitment, selection procedures, work practices, promotion etc.
Further advice
Ask a lawyer for:
employees based outside England and Wales
This equal opportunities policy complies with the Equality and Human Rights Commission's Employment Statutory Code of Practice.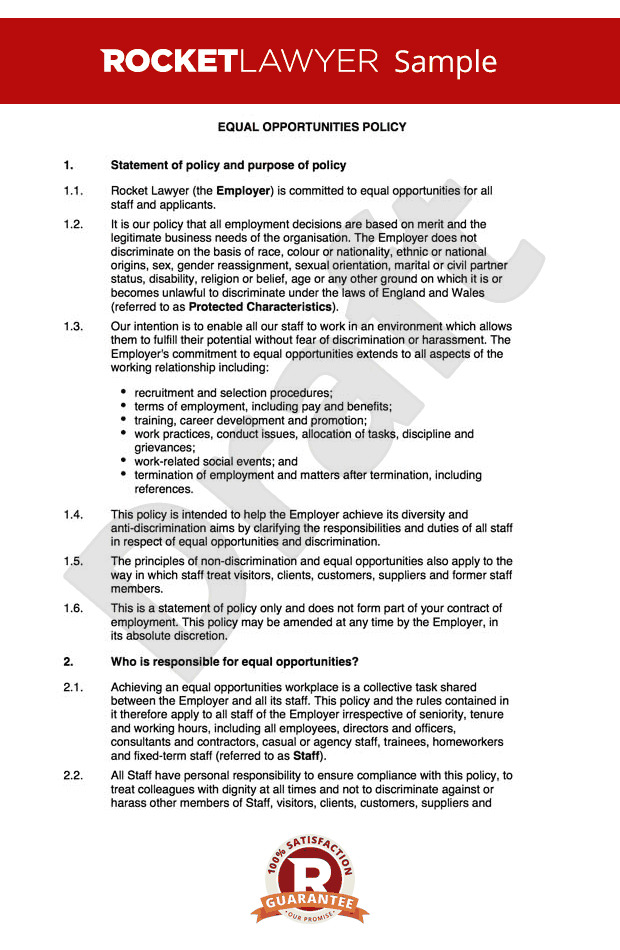 View sample
Sample Equal opportunities policy
More than just a Equal opportunities policy template, our step-by-step interview and guidance makes it easy to create your document.
Easily create online, download, print and sign your free Equal opportunities policy in minutes.
This document is also sometimes called: Equal opportunities and diversity policy.