Create your free Flexible working request
How it works
Create your document
Download
& Print
Sign &
Make it Legal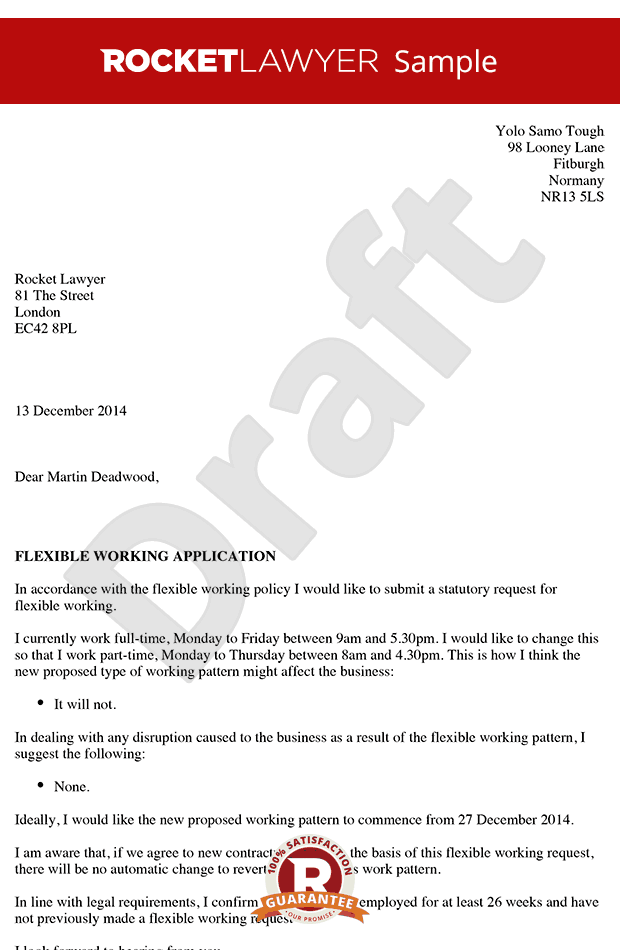 Overview of the Flexible working request
Apply for flexible working with this flexible working request. Set out your proposed working pattern and suggest how the business can deal with any disruption as a result of your new working pattern. This application covers the requirements for a statutory request, when the new working pattern starts and an optional trial period for the new working pattern.
When to use
Use this flexible working request
if you have not made a request for flexible working in the previous 12 months
if you would like to submit a statutory request for flexible working (as opposed to an informal request)
if you have been employed for at least 26 weeks
What it covers
This flexible working request covers
the proposed new working pattern
how any disruption to the business as a result of the new pattern will be dealt with
when the new working pattern will commence
the option for a trial period of the proposed working pattern
What's a flexible working request?
A flexible working request is the formal application made by an employee to request flexible working arrangements.
Why do I need a flexible working application?
A flexible working application forms part of the formal process to request flexible working. It keeps a record of the proposed working arrangements and demonstrates the staff's eagerness to accommodate the business' interests with a new working pattern.
What are the eligibility criteria to request flexible working?
To be able to apply for flexible working, the staff must:
be an employee (ie not a worker or consultant);
have worked continuously for the same employer for at least 26 weeks; and
have not made a formal flexible working request in the previous 12 months.
What types of flexible working can be proposed in the request?
Flexible working includes:
working fewer or different hours, eg part-time;
working fewer days, eg annualised or compressed hours; and/or
working from a different place, eg working from home.
What happens after applying for flexible working?
The application for flexible working is usually followed by a meeting with the employer to discuss the proposed working arrangements. If the request is accepted, this will result in a permanent change to the employee's employment contract.
What if the application for flexible working is rejected?
The employer can reject the application for several reasons (eg if flexible working would affect the business performance, etc.). In any case, employees should be able to appeal the decision within 14 days from the rejection date.
Employees can make a claim to an employment tribunal if the employer:
didn't handle the request in a 'reasonable manner'
dismissed or treated an employee poorly because of their request
rejected an application based on incorrect facts.
How long should it take for the employer to consider the flexible working request?
The whole application process, from the initial request to the employer's final decision, should take no longer than three months (unless otherwise agreed by the employee).
Further advice
Ask a lawyer if:
the reason for requiring a flexible work pattern relates to a disability or other reasons of equality
you think your flexible working request has been unreasonably rejected
This flexible working application is governed by the law of England and Wales.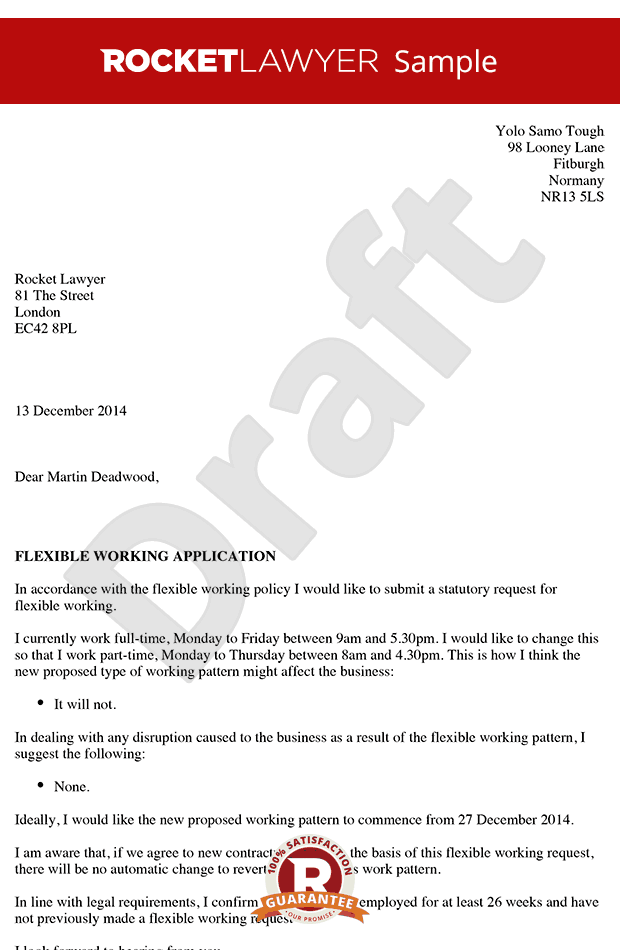 View sample
Sample Flexible working request
More than just a Flexible working request template, our step-by-step interview and guidance makes it easy to create your document.
Easily create online, download, print and sign your free Flexible working request in minutes.
This document is also sometimes called: Flexible working application.