Create your free Holiday letting agreement
How it works
Create your document
Download
& Print
Sign &
Make it Legal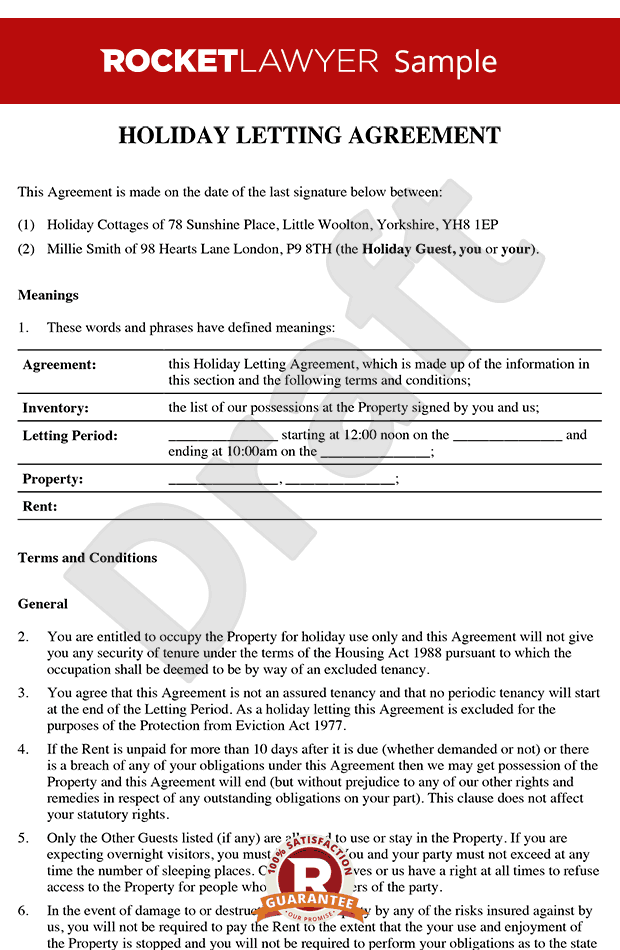 Overview of the Holiday letting agreement
Rent out your property for a short term using the most popular kind of holiday letting agreement for private landlords, the rental agreement for a holiday home. This straightforward short term letting agreement will help you make some extra money renting your home for up to 3 months. This agreement makes it simple and quick to remove guests who refuse to leave or cause damage to your property. As a holiday home owner, use this holiday letting agreement to lay out payment terms, highlight your obligations in the rental of your property and clearly outline your guests' rights.
When to use
Use this holiday letting agreement
if you have a property that you want to let out as a holiday let
if the letting is for a short fixed term up to a maximum of three months
if the property is furnished.
What it covers
This holiday letting agreement covers
the payment of rent
the owner and guests obligations in relation to the property
a deposit being taken from the guest.
What is a holiday letting agreement?
A holiday letting agreement is an agreement between a landlord and holiday guest for a short-term letting of a holiday-let property.
Why do I need a holiday letting agreement?
You will need this holiday letting agreement when you have reached an agreement with paying guests to rent out a holiday-let property.
Why do I need a formal agreement?
It is important to set out what you expect from your guests whilst they are at the property and what is included in the rental. If the guests do not leave at the end of the term or there are any problems you will want to take action quickly and with little time and expense.
How long will the letting last?
The holiday letting agreement is for short-term letting up to a maximum of three months.
Can I take a deposit?
The landlord can ask for a deposit to cover the cost of any breakages or damage to the property or its contents. Unlike other agreements any deposit taken does not need to be placed in a tenancy deposit scheme. This is because the tenant is not letting the property on an assured shorthold tenancy basis.
Should I include an inventory?
An inventory is a detailed list of all of the items in the property that the guest can use. An inventory should always be made as it can be used to prevent disputes at a later time about the condition of items.
Further advice
Ask a lawyer for:
if you want to let the property out for more then three months
for guests who will not leave the property or who have damaged the property
if the property is not a residential property
if the property is outside England or Wales.

This holiday letting agreement is governed by the law of England and Wales.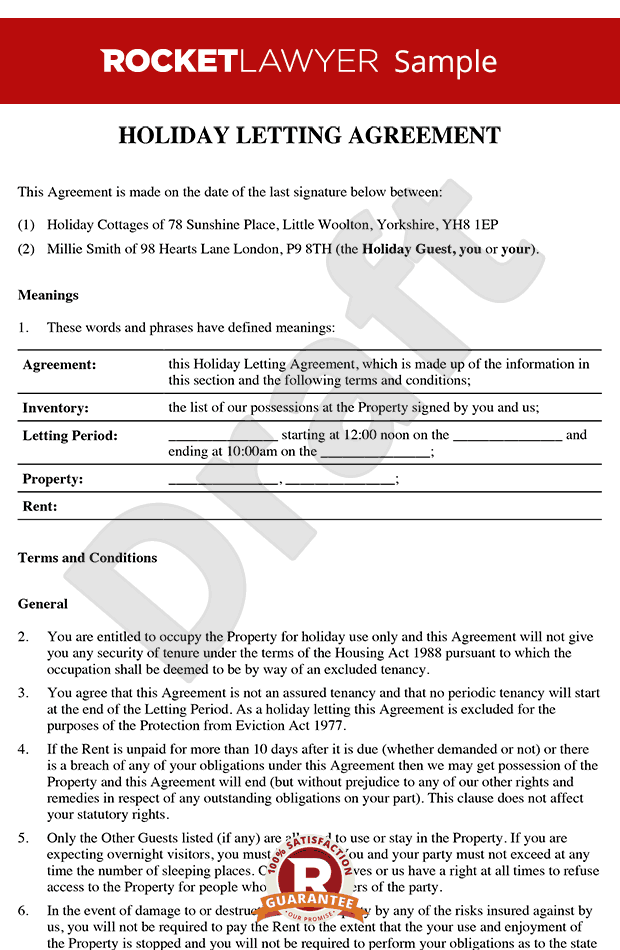 View sample
Sample Holiday letting agreement
More than just a Holiday letting agreement template, our step-by-step interview and guidance makes it easy to create your document.
Easily create online, download, print and sign your free Holiday letting agreement in minutes.
This document is also sometimes called: Holiday rental agreement.