Create your free Inventory
How it works
Create your document
Download
& Print
Sign &
Make it Legal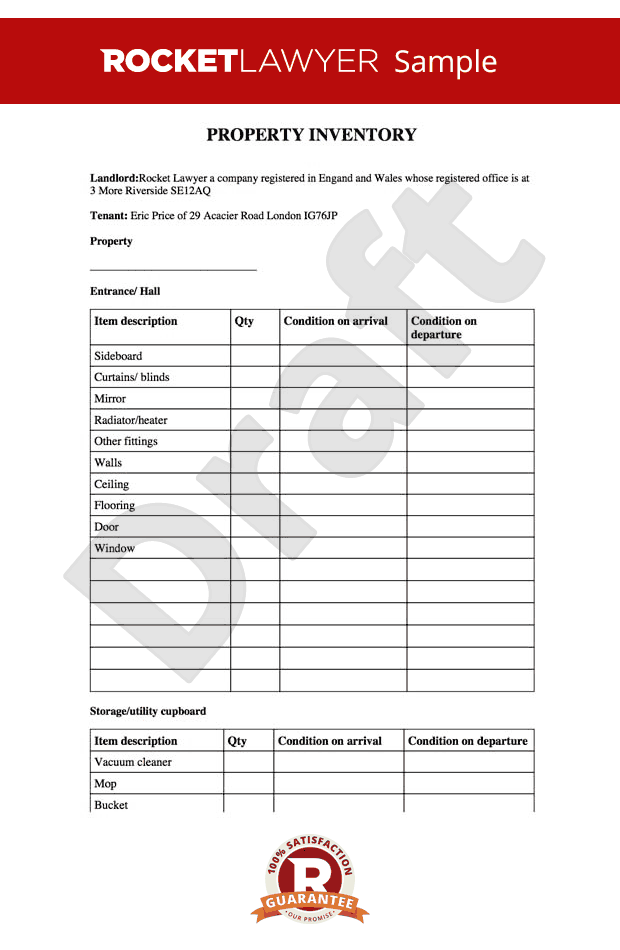 Overview of the Inventory
Using an inventory to record and agree the condition of items in a rented property will minimise misunderstandings in the future and benefits both landlord and tenant. As a landlord, use this simple interview to create a form of inventory for a rented flat or house. The property inventory will help you create a detailed record of the condition of items in the property at the beginning and end of the tenancy.
When to use
Use this inventory
when you want to let out a house or flat
to record the condition of items within the property
when the property is furnished or unfurnished
when the property has up to 2 reception rooms, 4 bedrooms and 2 bathrooms
What it covers
This inventory covers
a comprehensive list of the normal furnishings and fittings found in a house or flat
the condition of carpets, walls and doors
the conditions of items at the start and end of the tenancy
What is an inventory
An inventory is a detailed list of all of the items in a property that a tenant can use and records the state and condition of each item.
Do I need an inventory?
You need an inventory to record the condition of items before the tenant moves in and before the tenant leaves to clarify what, if any, damages need to be paid for out of any deposit.
An inventory should always be made as it can be used to prevent disputes at a later time about the condition of items.
What should be included in the inventory?
All items at the property that the tenant can use should be included. Any items in garages or sheds should also be listed.
The property is unfurnished- is an inventory still needed?
Even if the property is unfurnished an inventory should be prepared recording the condition of fixtures such as carpets, walls and sinks etc.
What detail needs to be included?
Be specific and detailed when completing the description of items eg. walls are clean and painted, patio is weed free. Photographs can be added if required and any existing damage or defects should also be recorded. Where items differ in condition, each item should be recorded separately.
Who needs to sign the inventory?
Each occupier at the property named on the tenancy agreement must sign and date the inventory as being correct. Any photographs should also be signed and dated.
What do you do with the inventory when it is signed?
Each occupier named on the tenancy agreement should be given a copy of the inventory. The original should be kept safe with the original tenancy agreement.
Further advice
Ask a lawyer for:
a property that is not residential
a property that has more than 4 bedrooms, 2 bathrooms or 2 reception rooms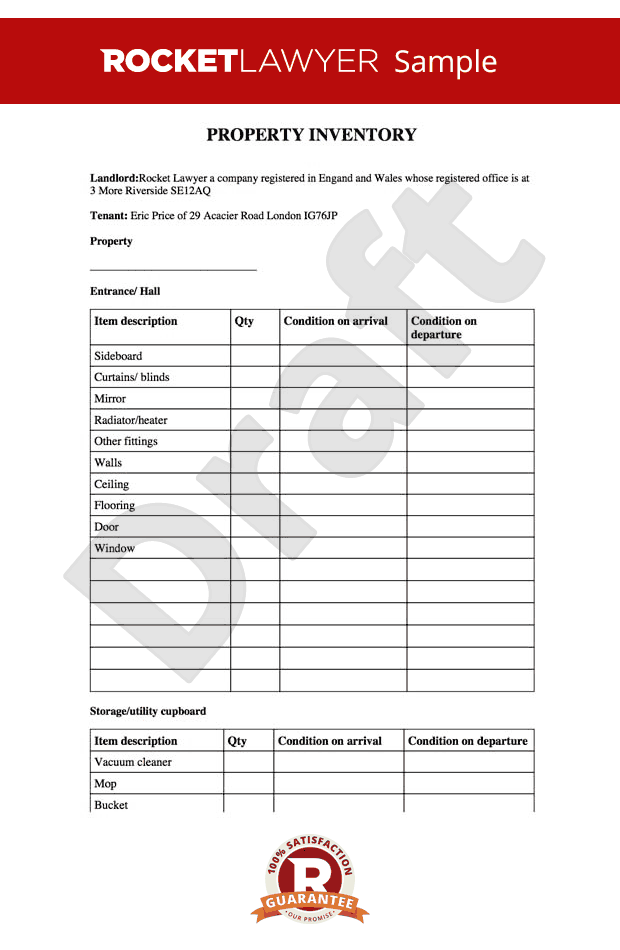 View sample
Sample Inventory
More than just a Inventory template, our step-by-step interview and guidance makes it easy to create your document.
Easily create online, download, print and sign your free Inventory in minutes.
This document is also sometimes called: Property inventory .