Create your free Invoice
How it works
Create your document
Download
& Print
Sign &
Make it Legal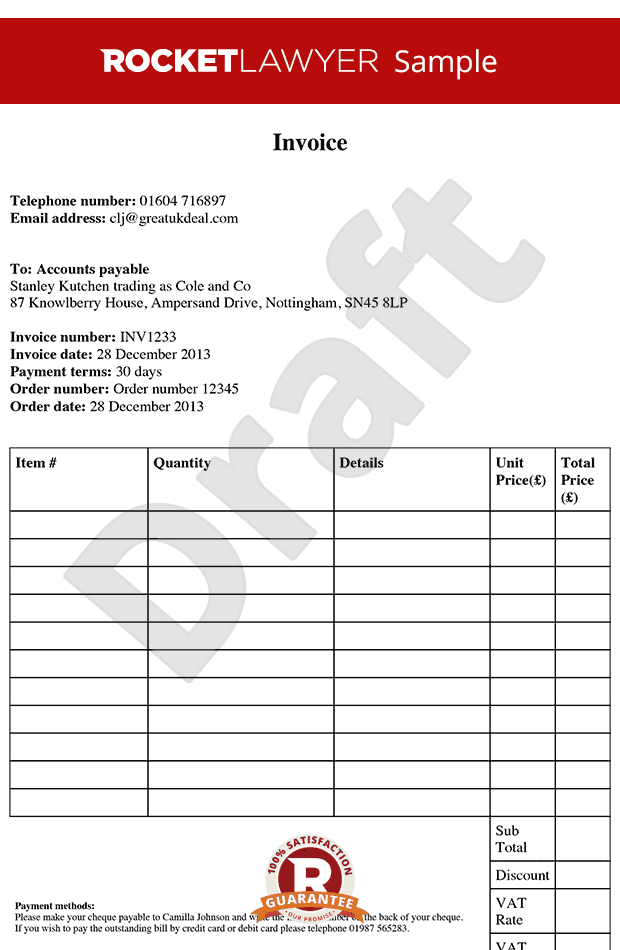 Overview of the Invoice
Outline the necessary payment details if you sell a customer a product or service with this invoice template. As a seller you will need this invoice template to send a bill or fee note to a purchaser. Alternatively you can use it to sell goods or services to a purchaser. This invoice covers the goods or services to be sold or purchased, the price and payment terms, as well as VAT details, if necessary. This invoice template will calculate the sub total, discount, vat and purchase total automatically for you.
When to use
Use this invoice
as a seller, to send a bill or fee note to a purchaser
to sell goods or services to a purchaser
What it covers
This invoice covers
the goods or services to be purchased
the price and payment terms
the details of the seller and the purchaser
how payment may be made
VAT details (if relevant)
What is an invoice?
An invoice is essentially a bill submitted by a business to its customers or clients in respect of goods supplied or services rendered. It's a crucial part of the business transaction and also serves as a record for tax purposes. Invoices generally include details of both businesses involved in the transaction - and often consumers (particularly in e-commerce transactions) - as well as a description of goods and services provided, individual costs and a total amount to be paid.
An invoice should not be confused with a receipt - which is an acknowledgement of payment.
Why do I need an invoice?
All VAT registered businesses are legally required to submit invoices to any clients who are also VAT registered. However, it is good practice for all businesses to generate invoices as part of the overall transaction process, irrespective of their VAT status. Furthermore, most business clients will only pay for goods or services once they have received an invoice, so ensuring that invoices are processed in a timely fashion facilitates payment and avoids discrepancies and delays. Keeping an accurate record of invoices is also crucial for annual tax returns, in terms of calculating business turnover, profit and expenses.
What should be included in an invoice?
An invoice should include the following information:
The word "INVOICE" should be clearly displayed at the top of the document;
An invoice number which uniquely identifies this invoice;
The date of the invoice;
Your company name (this should be the full company name as it appears on the certificate of incorporation) - or your personal name and business name (if you have one) if you are a sole trader;
Your company address - or an address where legal documents can be delivered;
Contact details, including an email and phone number;
The name of the client that you are invoicing - and optionally their address;
A brief description of services rendered or goods supplied and individual costs/fees;
The total amount being invoiced;
Your preferred payment method and details (eg. bank account number and sort code); and
A purchase order number (if required by your client).
VAT registered businesses must also include:
VAT registration number; and
Details of VAT charges.
VAT invoices should be used where both businesses involved in the transaction are VAT registered. See the GOV.UK website for information on VAT invoices.
What is an appropriate payment period?
You should ideally negotiate payment terms with your client prior to sending an invoice. However, an invoice can include a reminder of the payment period agreed, or a preferred payment period if one was not discussed. Many small businesses require payment within 14 calendar days but larger organisations may agree to up to 60 days (or longer if reasonable to both businesses). If no specific payment period is agreed, clients must pay within 30 calendar days of receipt of the invoice, and 30 days is generally considered to be the standard payment period amongst businesses.
What payment methods can I set out in an invoice?
Most businesses pay by direct bank transfer, so you should remember to include your bank account name, sort code and account number in any invoices. Alternatively, you can ask to be paid by cheque - in which case you should specify the best postal address. Some businesses also offer the option of card payment; however, note that this will often incur a processing charge and there are rules on passing on these processing fees.
Further advice
this invoice is not a complete contract
use the business hub to find terms and conditions which are suitable for the transaction
Ask a lawyer for:
advice on setting up a business
finding out about international sales including web sales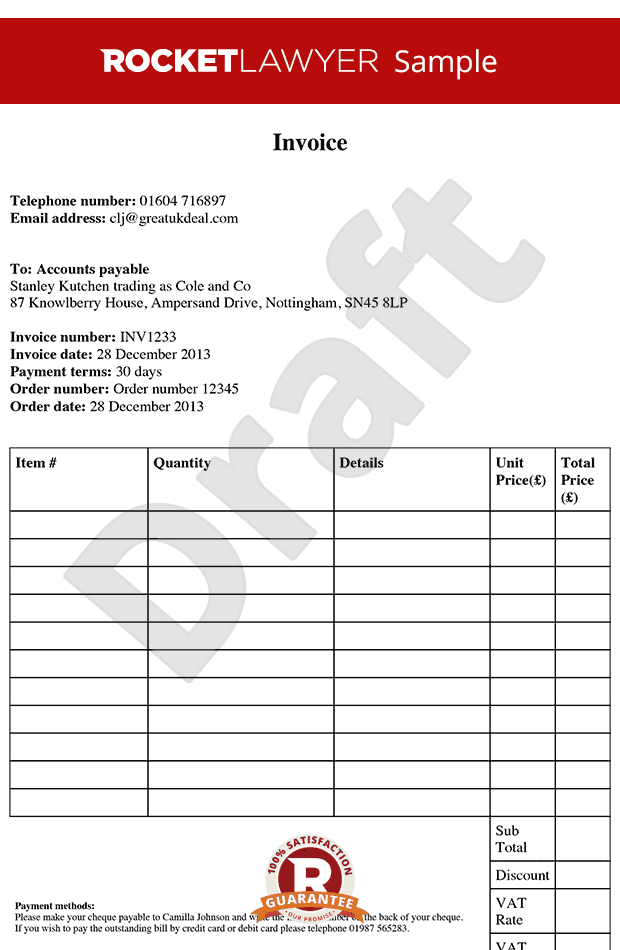 View sample
Sample Invoice
More than just a Invoice template, our step-by-step interview and guidance makes it easy to create your document.
Easily create online, download, print and sign your free Invoice in minutes.
This document is also sometimes called: Bill.