Create your free Job description
How it works
Create your document
Download
& Print
Sign &
Make it Legal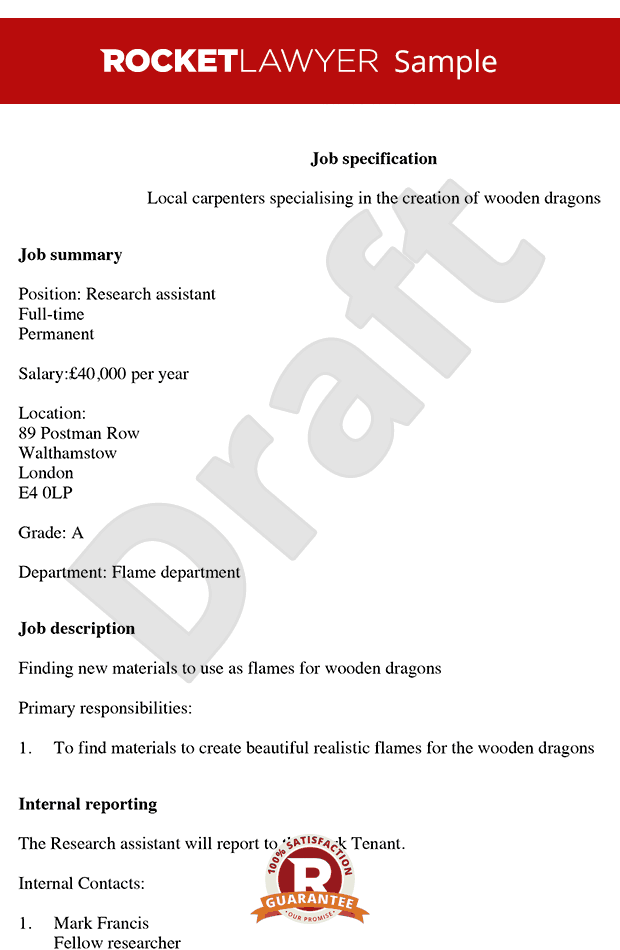 Overview of the Job description
Recruit the right employee using this job specification to comprehensively and easily describe your vacancy. Advertise the position properly and attract the best candidate with this job description. This job specification covers how to apply, which essential and desirable skills are needed and what the role entails. Make sure you cover everything using this job specification example.
When to use
Use this job specification
when you're advertising for a new member of staff
if you're expanding your workforce or replacing employees who are moving on
to clarify the requirements for a new position
to ensure you are advertising a position in accordance with best practice
What it covers
This job specification covers
job description and responsibilities
skills and qualifications requirements
days and hours of work
salary and staff benefits
application process
What is a job description?
A job description sets out all the important details of a specific position within a company. It explains the remit of the role (eg. types of work involved and responsibilities), any requirements for applicants (eg. in terms of skills, experience and qualifications) and the benefits (eg. salary and other staff perks). A job description helps to ensure that only the most suitable candidates apply for the position and reduces time spent on filtering applications by management and HR. It also helps existing employees, who are moving to a different role within the company, to understand their new roles and responsibilities.
Why do you need a job description?
Employees and candidates
Preparing comprehensive and accurate job descriptions forms a crucial part of the recruitment process. Whether you are advertising for a new position or need to replace an employee who is moving on, candidates (both internal and external) will need to understand the requirements of the role. As well as providing relevant details of work responsibilities, a job description can also help to attract new talent to your organisation, as part of an overall job advertisement.
Managers
A job description is not only important for job applicants, but also for line managers - particularly if they are new or not directly responsible for recruiting the new staff member (eg. if a more senior manager has decided to create a new role within the organisation). In this scenario, a job description can help the line manager to pick the right person for the job. Furthermore, it can help managers to evaluate the performance of an employee and gauge if they have met expectations.
What types of information should be included in a job description?
There are no specific requirements for a job description. However, it often includes the following:
The main purpose of the role;
Responsibilities of the job holder;
Any skills and qualifications which are required;
Days,hours and location of work - and if there are any flexible working opportunities;
Salary and other benefits (company pension schemes, company car etc);
Who the job holder will report to within the company; and
Details of how to apply for the job.
What should I avoid putting in a job description?
Discrimination
To stay in line with employment law, employers must take care to ensure that nothing in a job description (and any other job advertisement materials) can be considered discriminatory. Under the Equality Act 2010, the protected characteristics are:
Age;
Disability;
Gender reassignment;
Marriage and civil partnership;
Pregnancy and maternity;
Race;
Religion or belief;
Sex; and
Sexual orientation.
In general, these characteristics should not be taken into account in the selection process of a candidate; nor should a job description imply that any of these characteristics contribute to the selection criteria, either directly or indirectly. So, for example, phrases such as "youthful go-getter" or "mature experienced" should be avoided when describing an ideal candidate, as they could constitute age discrimination. However, if there is a "genuine occupational requirement" - such as if a young black male actor is required to play the role of a young black male character in a theatre production - this can be included in a job description.
Terminology
Avoid the use of internal terminology and acronyms when preparing a job spec. Unless you are just recruiting internally for a position, remember that the candidates reading the job description will not be familiar with company specific terms.
Does a job specification have to reflect the terms of the employment contract?
Many of the terms contained in a job description will form the basis of the equivalent terms of a consequential employment contract. But, in order to allow some room for negotiation, it's a good idea to keep terms of a job spec relatively open and flexible. For example, you can include a pay range (rather than a specific salary) and if you have several offices, you can state that the employee may need to work from any of those locations. If any terms contained in an employment contract differ from those in the job description, it is important that these terms are clearly pointed out to the employee before they sign the employment contract. Furthermore, you may want to include a "flexibility clause" as part of the job description, which states that terms are liable to change.
Further advice
Ask a lawyer for:
you are looking for a company director
you are searching for a business partner
you are advertising a position which will be primarily based outside England and Wales
*This does not guarantee that this document is suitable for your circumstances. Ask a lawyer to discuss your specific legal situation.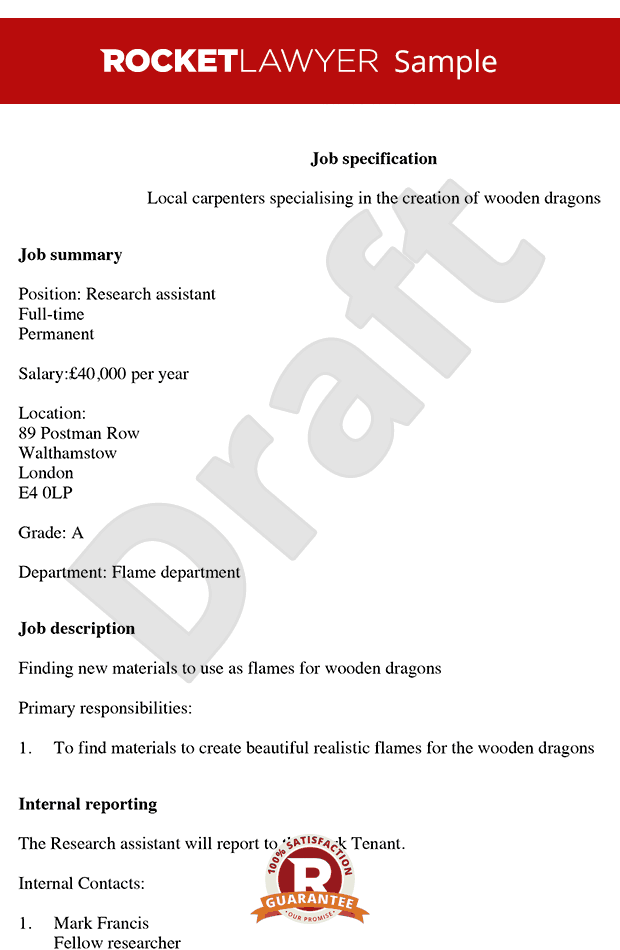 View sample
Sample Job description
More than just a Job description template, our step-by-step interview and guidance makes it easy to create your document.
Easily create online, download, print and sign your free Job description in minutes.
This document is also sometimes called: Job description and Job posting template.