Create your free Letter before action
How it works
Create your document
Download
& Print
Sign &
Make it Legal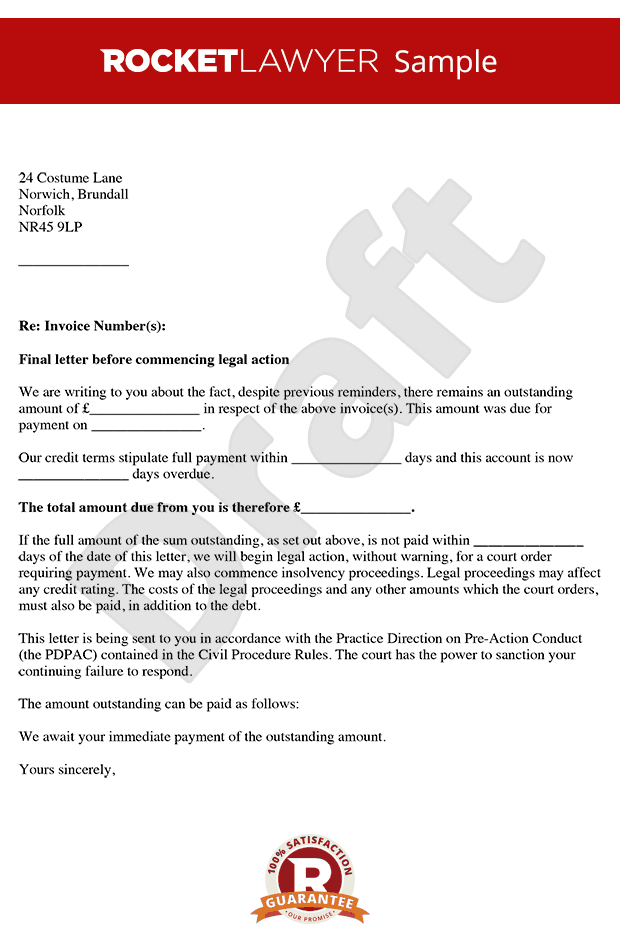 Overview of the Letter before action
A letter before action is the last letter you should send before commencing legal action to recover a debt. A final demand letter formally reminds and requests your client or customer one last time to make payment before you take legal action. This letter before claim details all the necessary information including the date the debt was owed, any interest that is to be paid, and how long the debtor has to pay before legal proceedings will take place.
When to use
Use this letter before action
when you want to recover a debt that is owing to you or your organisation
when you want to take further action after a second payment reminder letter has been sent and the debt remains outstanding
when you intend to give a last chance for payment before commencing legal proceedings for collection and enforcement of the debt
What it covers
This letter before action covers
the amount owing (the debt)
the date the debt owing should have been paid
whether interest is payable on the debt
automatic calculation of the amount of interest to be paid in total
automatic calculation of the continuing daily amount of interest charged as long as the debt remains unpaid
the threat of issue of legal proceedings for a county court judgment ('CCJ') which will be taken if the debt is not paid by a deadline
other enforcement procedures to recover the debt
Further advice
Ask a lawyer for:
advice on debt recovery and dispute resolution procedures
advice on debt recovery outside England and Wales
advice as to whether an insolvency procedure is appropriate
This letter is used for debts which are subject to English law or organisations based in England and Wales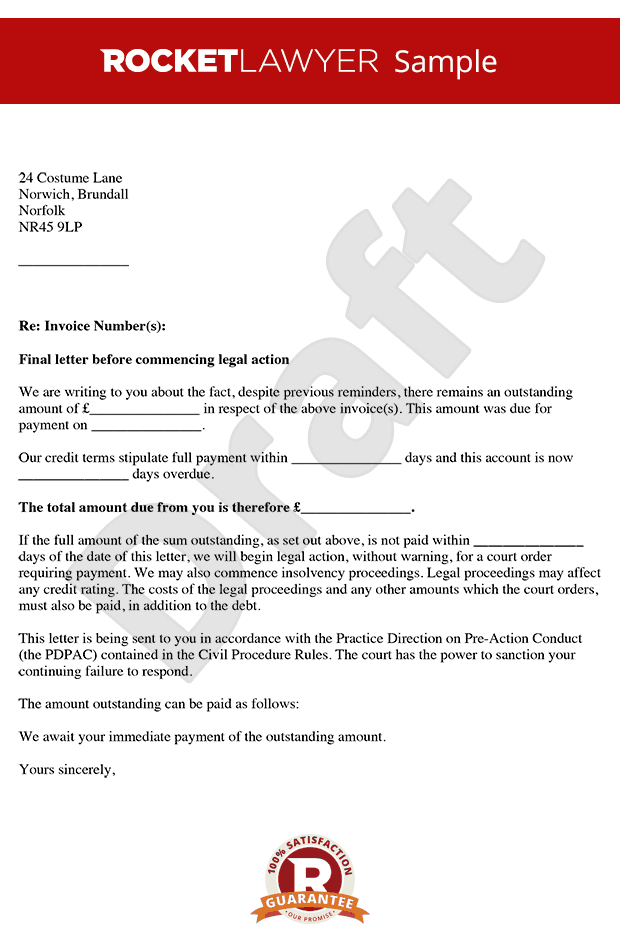 View sample
Sample Letter before action
More than just a Letter before action template, our step-by-step interview and guidance makes it easy to create your document.
Easily create online, download, print and sign your free Letter before action in minutes.
This document is also sometimes called: Final demand letter and Letter before claim.