Create your free Invitation letter to a poor performance hearing
How it works
Create your document
Download
& Print
Sign &
Make it Legal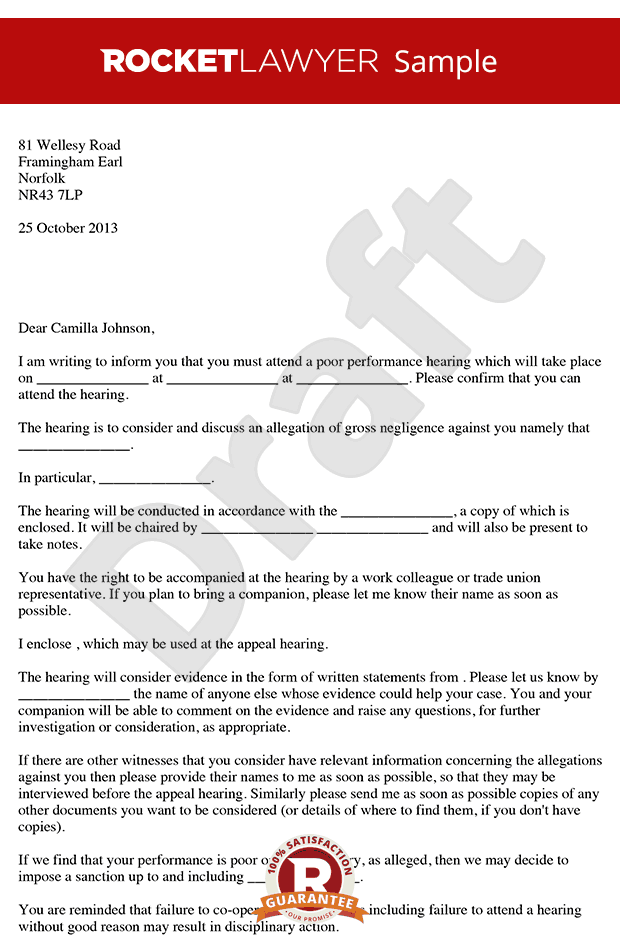 Overview of the Invitation letter to a poor performance hearing
This document is GDPR compliant.
Make sure you do things right when you invite an employee to a poor performance hearing, with this invitation letter to a poor performance hearing. This notice of poor performance hearing sets out in clear and simple terms the process to be followed and the employee's rights, helping ensure that the employer complies with the laws on performance evaluation.
When to use
Use this letter
when you want to invite an employee to attend a hearing to discuss their poor performance or gross negligence
only for employees based in England and Wales
What it covers
This letter covers
details of the performance hearing
procedural arrangements for the disciplinary hearing
additional documents and evidence
who will be present at the hearing
the employee's right to have a companion present at the hearing
What is poor performance?
Poor performance is where an employee is not meeting an employer's expectations. Examples of performance issues include: poor customer service, failing to meet work targets, missing work deadlines, inadequate quantity of work, inaccurate work, wasting work materials, failure/refusal to follow instructions, and/or unwillingness to take responsibility.
How is poor performance different to gross misconduct?
Gross misconduct relates to actions or behaviours of the employee that is so serious that it undermines the mutual trust and confidence between the employee and their employer. Gross misconduct will usually result in instant or summary dismissal.
Examples of gross misconduct: theft and dishonesty, vandalism of employer property, fighting or physical violence, accepting or offering bribes, indecent behaviour, fraud etc.
What is a poor performance hearing?
A poor performance hearing is a type of disciplinary hearing.
What details should be included in the letter?
Make sure you include enough information about the disciplinary hearing, including:
time and venue for the hearing
who will be present at the hearing (including a chairperson, notetaker, and any witnesses)
the evidence of the poor performance
the employee's right to be accompanied (by a colleague or trade union representative) at the hearing. This is a statutory requirement.
Do I need to comply with the ACAS Code?
Compliance with the ACAS Code of Practice on Disciplinary and Grievance Procedures will be taken into account by an employment tribunal in deciding whether an employee has been treated fairly and can also impact on the amount of compensation awarded if the case went to court.
Further advice
Ask a lawyer for:
distinguishing poor performance from gross negligence/incompetence
giving warnings without a performance hearing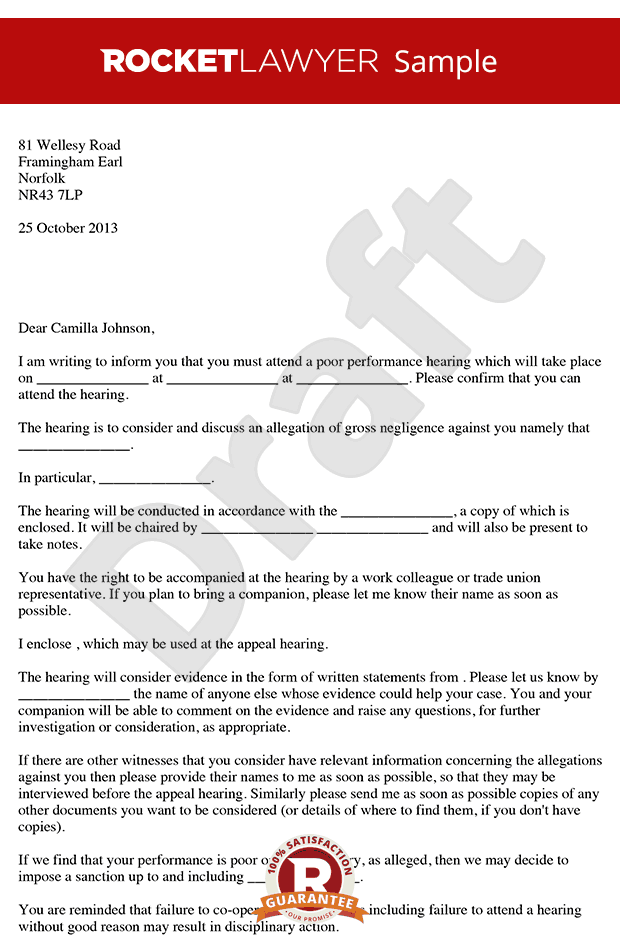 View sample
Sample Invitation letter to a poor performance hearing
More than just a Invitation letter to a poor performance hearing template, our step-by-step interview and guidance makes it easy to create your document.
Easily create online, download, print and sign your free Invitation letter to a poor performance hearing in minutes.
This document is also sometimes called: Poor performance hearing notification .