Create your free Letter of confidentiality
How it works
Create your document
Download
& Print
Sign &
Make it Legal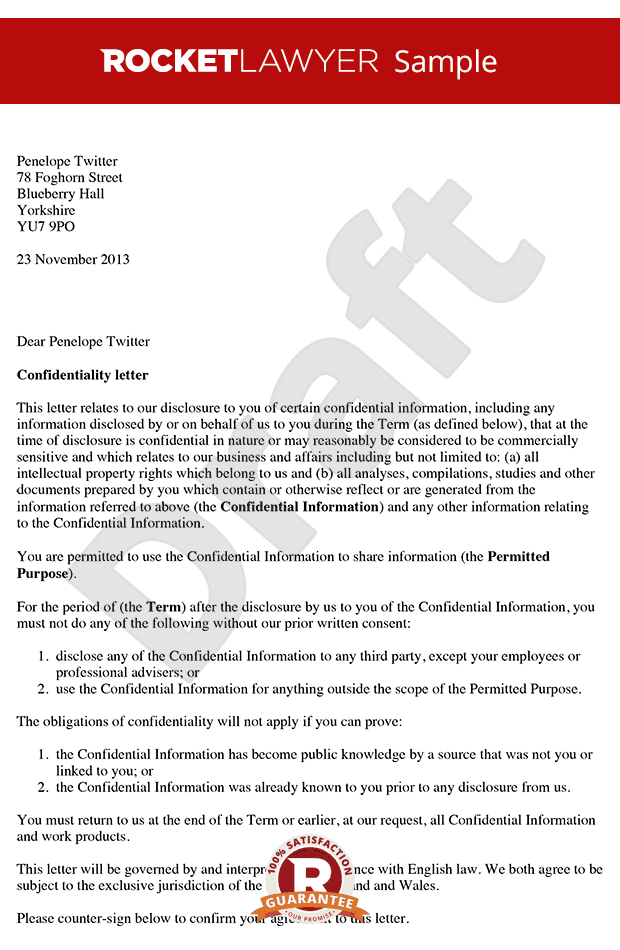 Overview of the Letter of confidentiality
Protect yourself and your business when sharing confidential information with another business or individual. Use this confidentiality letter template to impose restrictions on how your confidential information is used and shared. This basic letter of confidentiality contains everything needed when you need to quickly agree to an NDA and import the value of your confidential information on the other party.
When to use this confidentiality letter
Use this letter of confidentiality:
when you want to share confidential information with another business (or individual) using the most straightforward type of non-disclosure agreement (NDA)
when you first start sharing information, or if you frequently do so, and quickly need to agree an NDA to protect your information
to impress upon the other party the value of your confidential information
to impose restrictions on use and disclosure of the confidential information
This letter of confidentiality covers
definition of confidential information
protection of confidential information
what confidential information can be used for
who can receive confidential information
disclosures required by law
how long the information remains confidential
What's a letter of confidentiality?
A letter of confidentiality is a basic and straightforward letter that acts as a non-disclosure agreement. The party disclosing confidential information imposes restrictions as to the use of this confidential information to the party receiving it.
Why do I need a letter of confidentiality?
When disclosing confidential information to a business or an individual, it's vital to protect your business by using either a letter of confidentiality or a confidentiality agreement. Having a letter of confidentiality signed by the party receiving the confidential information ensures the information you share will be protected and not disclosed.
What's the difference with a confidentiality agreement?
This letter of confidentiality is a short and simple agreement, and as such does not incorporate the full range of provisions that are generally included in a longer form confidentiality agreement.
What is confidential information?
Almost any type of information can be confidential information. You can protect both commercial information and personal information. Examples of confidential information include trade secrets, patents, products designs, data bases, recipes, drawings, client's information or lists etc.
How does a letter of confidentiality protect confidential information?
The letter of confidentiality prevents the party receiving confidential information from disclosing it and using it for anything outside the scope of the permitted purpose.
Are there any exceptions to the restrictions imposed by the letter?
The obligations of confidentiality should not apply if:
The confidential information has become public knowledge; or
The confidential information was already known to the receiving party prior to its disclosure.
How long should the information remain confidential for?
The information being shared will probably only need to remain confidential for a limited period and it is preferable to set out this period in the letter. How long depends on the sort of information being shared and why it's being shared. 6 months, 1 year or 2 years are reasonable periods of time.
This letter of confidentiality is governed by the law of England and Wales.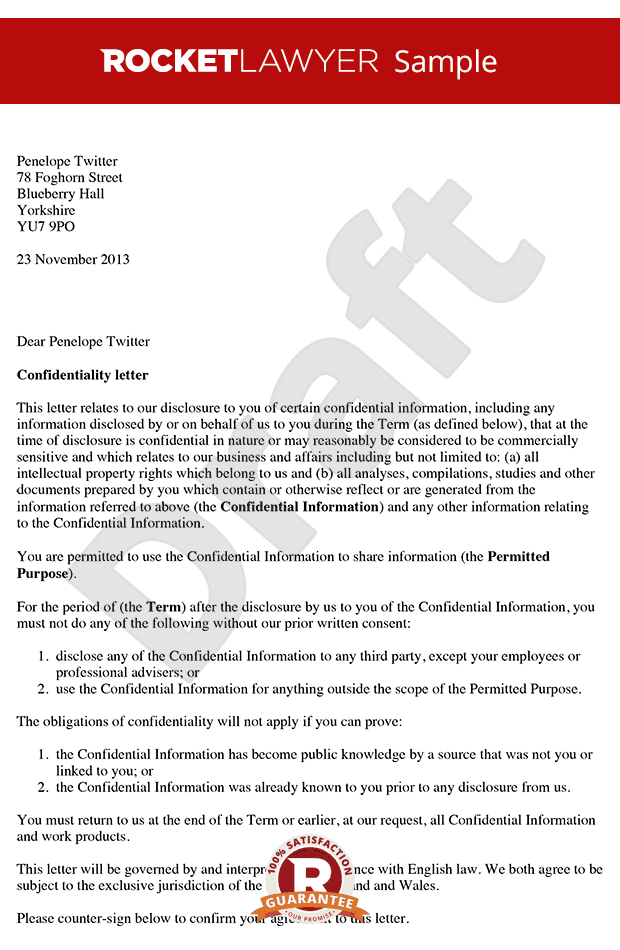 View sample
Sample Letter of confidentiality
More than just a Letter of confidentiality template, our step-by-step interview and guidance makes it easy to create your document.
Easily create online, download, print and sign your free Letter of confidentiality in minutes.
This document is also sometimes called: Confidentiality agreement letter.