Create your free One-way confidentiality agreement
How it works
Create your document
Download
& Print
Sign &
Make it Legal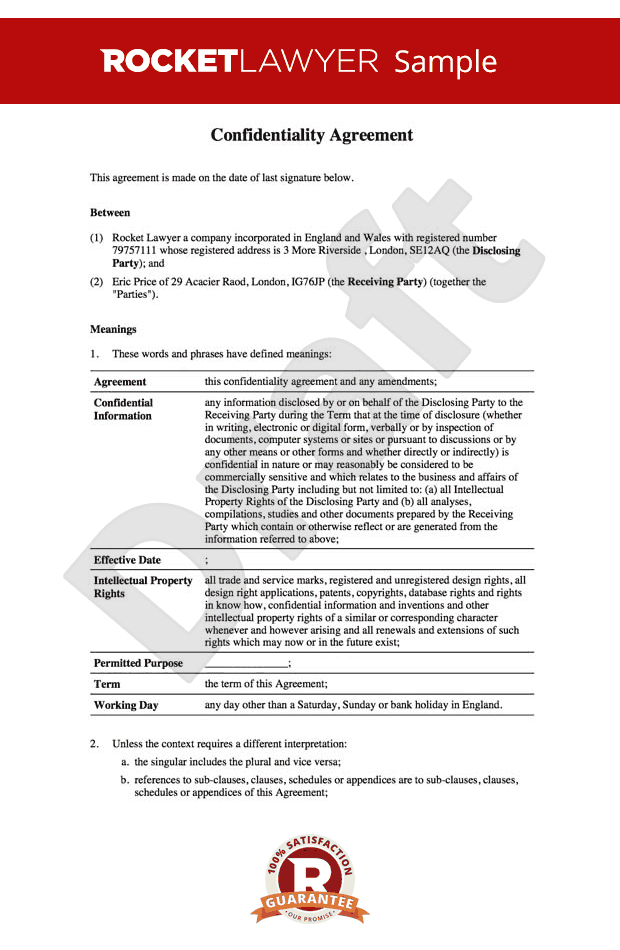 Overview of the One-way confidentiality agreement
Protect the confidentiality of business information with this one way non disclosure agreement. Also known as a confidentiality agreement, this document offers protection when a business wants to disclose information to another business but needs to make sure that the information goes no further. This NDA allows you to get to know each other better so you can decide whether to enter into a longer-term deal or partnership.
When to use
Use this one-way confidentiality agreement
when you want to share confidential information with another business (or individual)
to impress upon the other party the value of your confidential information
to impose restrictions on use and disclosure of the confidential information
to impose requirements about protection of your confidential information
What it covers
This one-way confidentiality agreement covers
definition of confidential information
protection of confidential information
what confidential information it can be used for
who is allowed to receive confidential information
disclosures required by law
ending the agreement
remedies if there is a breach of confidentiality
What is a one-way confidentiality agreement?
A one-way confidentiality agreement (or unilateral non-disclosure agreement) covers situations where only one party is disclosing confidential information, and one party is receiving it. It is a legal contract that offers protection to the party disclosing confidential information and imposes restrictions to the party receiving it.
When do I need a one-way confidentiality agreement?
Common situations where you may need to use a unilateral NDA include:
bringing in a consultant;
talking to potential partners; or
hiring an employee.
Asking the other party to sign an NDA protects any sensitive information you may share. A unilateral NDA protects this information by stating that anything confidential that is shared by the disclosing party will not be disclosed by the receiving party (except in prescribed circumstances) and if it is shared, then there will be reparations eg damages.
What type of information may be protected?
Almost any type of information can be confidential information. You can protect both commercial information and personal information. Examples of confidential information include trade secrets, patents, products designs, data bases, recipes, drawings, client's information or lists etc.
What is 'the purpose of disclosure' in a confidentiality agreement?
When drafting a one-way confidentiality agreement, you must state the purpose for which the confidential information is being disclosed to the receiving party. This is also called the ''permitted purpose''. The purpose of disclosing the information must be legitimate and for specific reasons. You must describe the purpose of disclosure as clearly as possible, eg for the purposes of exploring a joint venture between the parties.
When is information not considered to be confidential?
Information is not deemed to be confidential if it:
is already known to the party receiving the confidential information prior to disclosure;
is known to the public;
comes into the possession of the receiving party from a third party who did not violate any contractual or legal obligations himself by disclosing this information
is required to be disclosed by law or rules of any court
How long should confidential information remain confidential for?
The period of time for which each party must keep the information confidential will vary depending on the circumstances. Confidentiality agreements can be terminated immediately by giving notice in writing or can automatically terminate (after 1, 3 or 5 years if creating a Rocket Lawyer NDA). You should set a realistic time period for the duration of the agreement as information can lose its confidential character or commercial value over time.
What are the remedies available for breach of confidential information?
The remedies available for breaching a confidentiality agreement are proportionate to the wrong done. A successful claimant in an action for misuse of confidential information is entitled to a percentage of profits that have resulted from the misuse of information, damages and, or injunction.
Further advice
Ask a lawyer for:
advice if any of the parties are based outside England and Wales
This confidentiality agreement is governed by the law of England and Wales.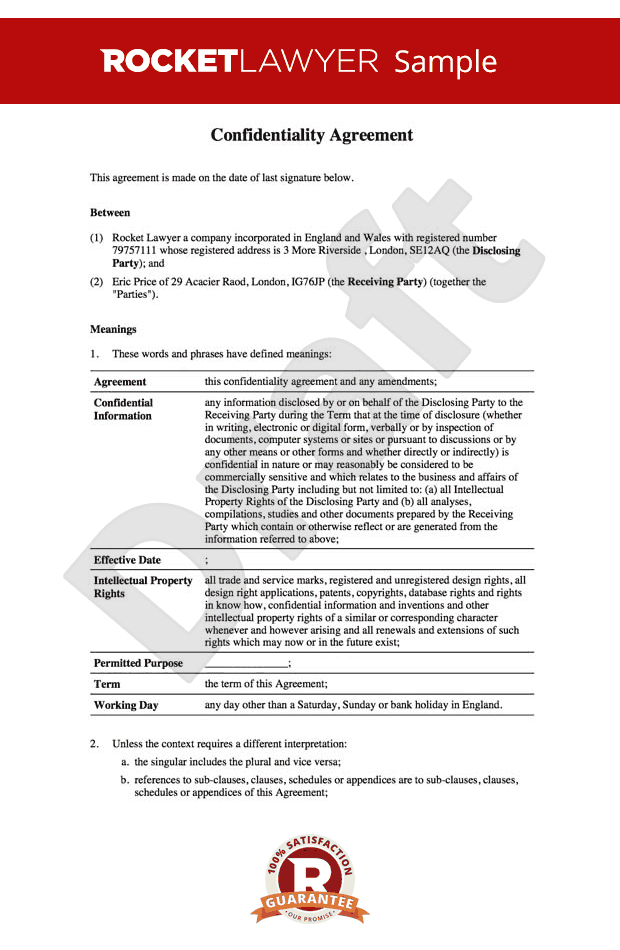 View sample
Sample One-way confidentiality agreement
More than just a One-way confidentiality agreement template, our step-by-step interview and guidance makes it easy to create your document.
Easily create online, download, print and sign your free One-way confidentiality agreement in minutes.
This document is also sometimes called: One way non disclosure agreement and One-way non disclosure agreement.