Create your free Purchase order
How it works
Create your document
Download
& Print
Sign &
Make it Legal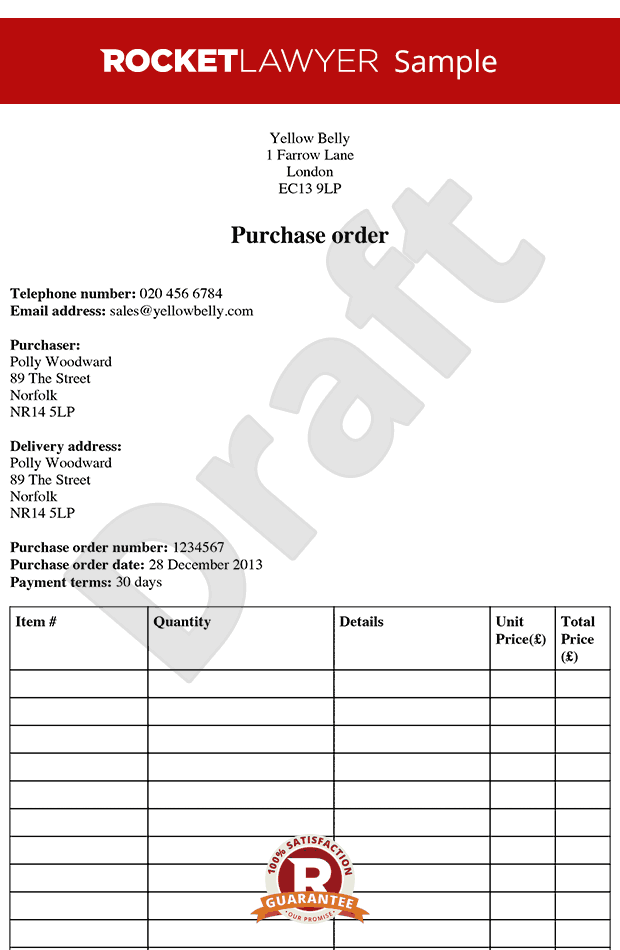 Overview of the Purchase order
Whether you're a purchaser or seller, you'll need this purchase order template when buying, ordering or providing goods and services. In addition to the existing terms and conditions, this purchase order template will act as a formal offer for the supply of goods and/or services in return for payment. This purchase order covers the description of what is to be bought or sold, the contact details of the buyer and seller, as well as the price and payment details. This purchase order will calculate the sub total, discount, vat and purchase total automatically for you.
Use this purchase order
as a purchaser, to buy or order goods and services
as a seller, to provide to customers to buy and sell goods and services
in addition to terms and conditions which protect your position
This purchase order covers
the sale and purchase of goods or services
the description of what is to be bought
the names and contact details of the buyer and seller
the price, delivery fees and any VAT payable
What is a purchase order?
A purchase order (sometimes called a work order) confirms an order of goods or services by a purchasing company (the client) from the provider (supplier). It sets out types and quantities of goods purchased, specifies any services requested, and includes the details of agreed costs. Purchase orders are used by many businesses as part of their standard purchasing processes to clarify terms of transactions, prior to services being carried out or goods being delivered by the supplier.
Why do I need a purchase order?
A purchase order forms part of the overall contract, explicitly stating what has been requested by the client or purchaser and setting out additional terms. It helps the buyer by ensuring that all costs are specified in advance, and it also serves as proof to the seller of what has been ordered. As such, it can be used by both businesses during a transaction. As well as serving as proof of intentions, purchase orders can also improve the streamlining of purchasing processes and help ensure that accurate records are kept for accounting and auditing purposes.
What should be included in a purchase order?
A purchase order should include the following:
The word "Purchase Order" should be clearly displayed;
A unique purchase order (PO) identification number;
The date the purchase order was created;
Agreed dates for delivery of goods and/or services;
The company name (individual name if sole trader) of both vendor and purchaser and contact details;
A description of the goods or services ordered and individual costs/fees;
The total cost, any agreed delivery fees and VAT if applicable; and
Any agreed payment terms.
How does a purchase order differ from an invoice?
A purchase order requests the provision of specific goods or services; the invoice requests payment for the supply of these goods or services.
Purchase orders should always precede invoices. A purchase order may be used as the basis of an invoice, and invoices should always reflect the details contained in a purchase order (in particular the agreed fees/amounts). Many purchasers require the relevant purchase order number to be included in any invoice in order to streamline their processing and ensure that everything tallies up.
What is an appropriate payment period?
A purchase order can include a note of any payment period, if agreed, or a preferred payment period if one was not discussed (although this may not be binding). The standard payment period is within 30 calendar days of receipt of invoice, beyond which the payment is considered late (unless otherwise agreed) and a statutory demand can be made.
Should purchase orders always be given to contractors
If you only deal with a handful of contractors and prefer to keep things informal, you might choose to omit purchase orders from your transactions. However, some contractors will demand a purchase order before starting work. Also, having a formal contracting system in place, which includes purchase orders, can help to prove the status of contractors - so they are not classified as employees for purposes of IR35.
Further advice
this is not a complete contract for doing business
this should not be used after the purchase/sale has taken place
Ask a lawyer for:
more information about drafting your terms and conditions if you are a purchaser or seller
problems identifying the contract where there are competing terms and conditions on the back of orders, order acknowledgments and delivery notes
international sales
This purchase order does not automatically select which relevant law (e.g. English law) which applies to the order. If the goods and services are based in England and Wales, the law of England and Wales will apply.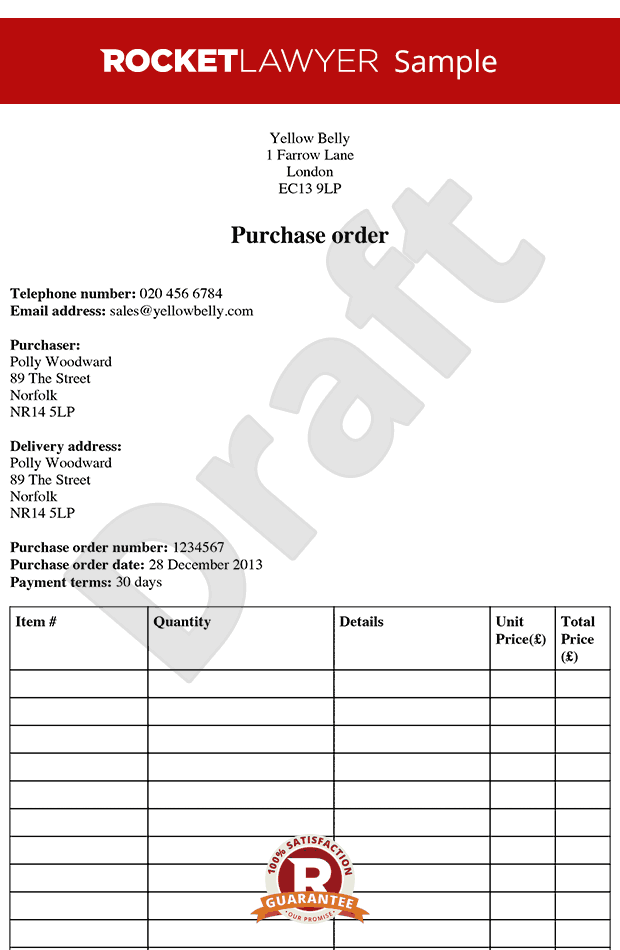 View sample
Sample Purchase order
More than just a Purchase order template, our step-by-step interview and guidance makes it easy to create your document.
Easily create online, download, print and sign your free Purchase order in minutes.
This document is also sometimes called: PO.