Create your free Redundancy consultation letter
How it works
Create your document
Download
& Print
Sign &
Make it Legal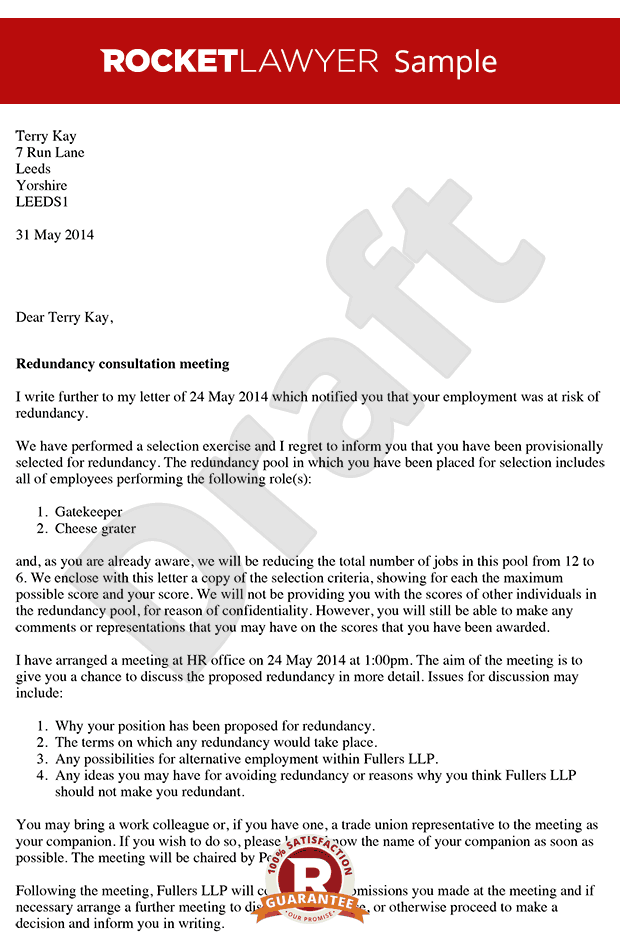 Overview of the Redundancy consultation letter
This document is GDPR compliant.
Inform employees of the date and time of a meeting to discuss potential redundancies with this redundancy consultation letter. Although it is not always necessary to hold a physical meeting to discuss redundancy with employees, holding a redundancy consultation meeting shows a continued effort to keep employees informed of the situation and allows employers and employees to discuss the proposed redundancy in more detail.
When to use
Use this letter:
to invite an employee to a redundancy consultation meeting, if you are planning to make one or more (but less than 20) employees redundant
How to use
Use this letter:
either as the first step in the redundancy process when you are making just one employee redundant who is a unique role and there is no element of selection
or after you have already sent an at risk of redundancy letter to a group of employees who may be affected by redundancy
What it covers
This letter covers:
previous letters/meetings dealing with the risk of redundancy
the reason for the proposed redundancy
the nature of the redundancy
the redundancy pool (if relevant)
the basis of selection and enclosure of the redundancy scores (if relevant)
details of the consultation meeting
topics for discussion at the consultation meeting
the employee's right to be accompanied to the meeting
invitation for the employee to make submissions/representations at the meeting
invitation for the employee to notify of any adjustments needed as a result of disability

What is a redundancy consultation letter?

A redundancy consultation letter is a formal letter inviting an employee to a consultation meeting where potential redundancy will be discussed. It outlines the reason for the proposed redundancy and sets out the details of the consultation meeting.

Why do I need a redundancy consultation letter?

Sending a redundancy consultation letter to all potentially affected staff is an essential step of the redundancy process. It ensures staff are aware of the situation and gives them a chance to discuss their selection for redundancy during a formal meeting. A one-to-one consultation provides the opportunity to explore alternative options. It reduces the likelihood of misunderstandings and leads to better decision-making. Failure to consult employees may lead to unfair dismissal claims being brought to an employment tribunal.

Which issues should be discussed at the consultation meeting?

The chairperson conducting the meeting for the employer should detail the reason for the proposed redundancy as well as the basis for selection (if relevant). Employees should be able to discuss alternative ways of tackling the problem or, if redundancy is inevitable, ways of minimising hardship.

Can the employee be accompanied at the consultation meeting?

Yes - employees can be accompanied at the meeting by a work colleague or trade union representative.

What's the next step after sending a redundancy consultation letter?

Following the consultation meeting, managers should be able to decide whether staff should be made redundant or not. If redundancy appears to be the only way forward, the affected staff must be informed in writing with a dismissal for redundancy letter.
Further advice
when an employee on maternity leave is being made redundant
for collective redundancies (ie 20 or more employees may be made redundant within a 90 day period)
for employees based outside England and Wales
This letter is governed by the law of England and Wales.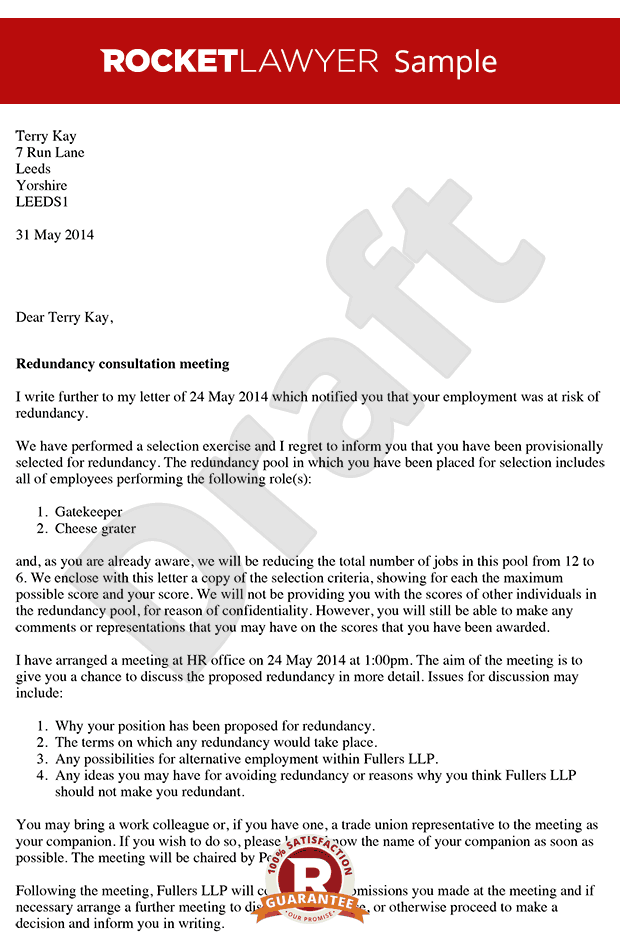 View sample
Sample Redundancy consultation letter
More than just a Redundancy consultation letter template, our step-by-step interview and guidance makes it easy to create your document.
Easily create online, download, print and sign your free Redundancy consultation letter in minutes.
This document is also sometimes called: Letter consulting employees about redundancies.