Create your free Redundancy policy
How it works
Create your document
Download
& Print
Sign &
Make it Legal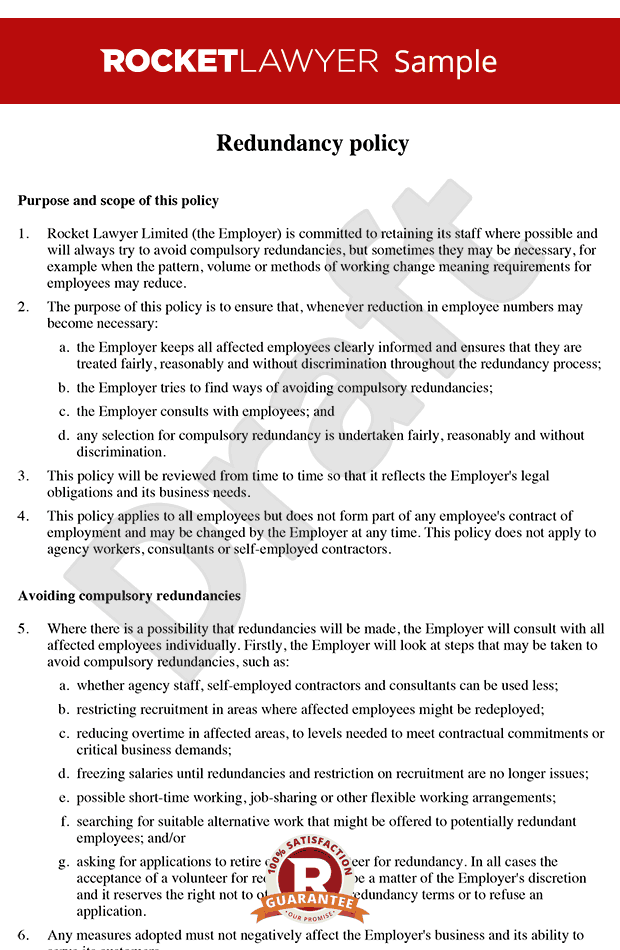 Overview of the Redundancy policy
This document is GDPR compliant.
Inform your employees of your redundancy process using this policy. This redundancy policy explains to employees how redundancy decisions are to be made, and summarises their statutory rights. A redundancy policy assures employees that the employer will maintain good communication and consultation during the redundancy process. Employers should follow this procedure to help them make lawful redundancies.
Use this redundancy policy
to help managers communicate clearly with all employees affected by a proposed redundancy exercise and ensure that those employees are treated fairly, reasonably and without discrimination throughout the process
as a guide of ways to avoid compulsory redundancies
to remind managers of consultation obligations during the redundancy process
only for employees based in England and Wales
This redundancy policy covers
the purpose of the redundancy policy
consultation obligations and how they will be dealt with
explanation of the selection criteria and process
redeployment
dismissal by reason of redundancy
What is a redundancy policy?
A redundancy policy is a document that sets out the procedure to follow within a business when making staff redundant. It details each step of the redundancy process and outlines the statutory entitlements for redundant staff.
Why do I need a redundancy policy?
Whether you are running a small or large business, the redundancy process needs to be dealt with fairly and consistently. A carefully written redundancy policy ensures staff are aware of their rights when being made redundant, and avoids risks of unfair dismissal claims further down the line. It shows management is concerned about employees' welfare and employment security.
Who should a redundancy policy apply to?
A redundancy policy should only apply to employees who are under an employment contract. This means it does not apply to contractors or workers.
What process should be followed when making someone redundant?
The redundancy policy lays out the steps of the redundancy process, including:
Considering alternative employment solutions - managers should always consider alternative options to reduce or prevent redundancies, such as part-time or flexible working.
Staff selection - The redundant staff must be selected carefully and fairly, through a redundancy pooling and selection process.
Staff information - All potentially affected staff must be informed that they are at-risk of redundancy.
Employee consultation - Each employee who is at risk of redundancy should be invited to a consultation meeting, where potential redundancy as well as alternative employment options will be discussed.
Redundancy notice - Once the selection and consultation processes are complete, it is important to inform staff in writing that they are being made redundant, with a dismissal for redundancy letter.
Appeal - employees should have the possibility to appeal their selection for redundancy.
Which rights are redundant staff entitled to?
The redundancy policy sets out the rights redundant staff are entitled to, which include:
Statutory pay according to their pay, age and length of service; and
Time-off to look for work or make arrangements for training.
Does this policy apply to small or micro businesses?
This redundancy policy is adapted to both small or large businesses, as long as less than 20 employees are likely to be made redundant. However, in small and micro businesses, redundancy pooling and selection might not be relevant, as employees often perform their role individually so there is no element of selection among employees performing similar roles. For further information on small-scale redundancies, read our Quick Guide on How to make someone redundant in a small business.
Further advice
Ask a lawyer for:
employees based outside England and Wales
a redundancy exercise where 20 or more employees are likely to be made redundant within a 90 day period
where trade union consultation is required due to collective agreements affecting the employees' contracts of employment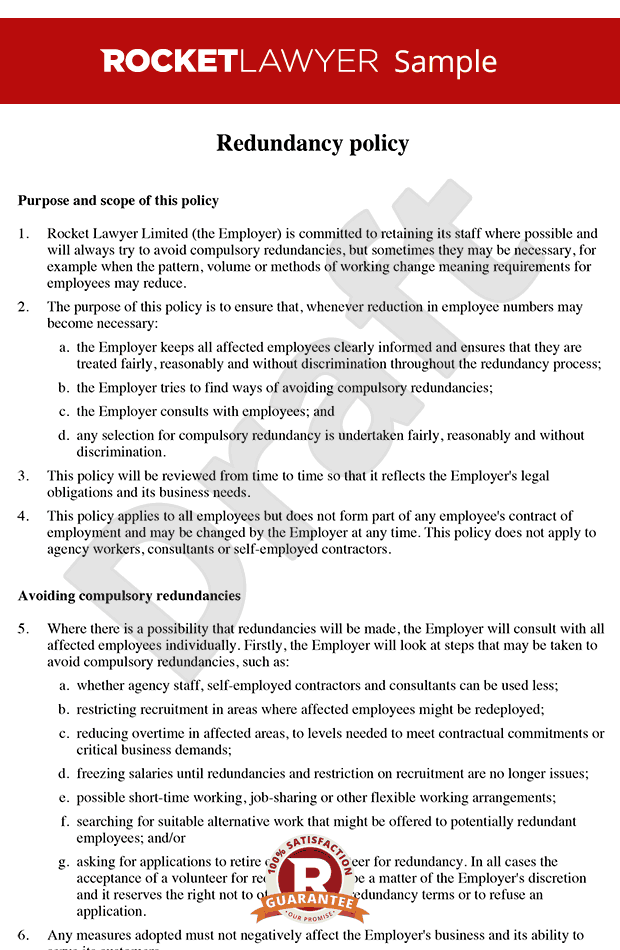 View sample
Sample Redundancy policy
More than just a Redundancy policy template, our step-by-step interview and guidance makes it easy to create your document.
Easily create online, download, print and sign your free Redundancy policy in minutes.
This document is also sometimes called: Redundancy procedure and redundancy process.