Create your free Room rental agreement
How it works
Create your document
Download
& Print
Sign &
Make it Legal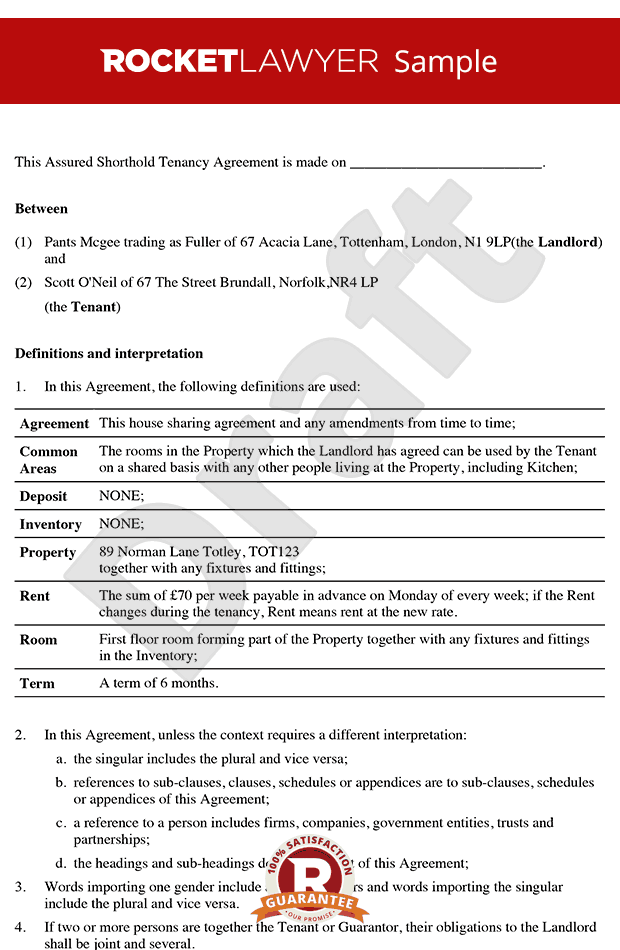 Overview of the Room rental agreement
Rent out rooms in your house safely to tenants with this room rental agreement using this type of tenancy agreement for private landlords. Give yourself peace of mind when letting to a group of people who are not all members of the same family by creating separate agreements for each tenant. Try this assured shorthold tenancy to let out your whole house for a short period at a full market rent and be able to get it back, if you wish, after six months. This type of tenancy agreement also makes it simpler and quicker to evict tenants who fail to pay their rent or cause a nuisance and complies with the tenant fees legislation.
When to use this room rental agreement
Use this room rental agreement:
when you are looking to rent out room(s) at your property
when you want to enter into separate tenancy agreements for each room
when you will not be living at the property
when the tenant is an individual
when the property will be the tenant's main home
when there is only one landlord
only when the property is in England and Wales
What it covers
This room rental agreement covers:
the amount of rent payable for the room
any deposit required
landlord responsibilities
what the tenants can and cannot do at the property
ending the agreement
the requirements under the Homes (Fitness for Human Habitation) Act 2018 and the Tenant Fees Act 2019
What is a room rental agreement?
A room rental agreement is an agreement that allows a landlord to rent out rooms in a property they own but do not live in.
Do I need a room rental agreement?
You will need a room rental agreement if you own a property that you do not live in and want to rent it to a number of tenants at a market rent.
How many tenants can live at the property?
There can be no more than three tenants (who are unrelated) living at the property. If there is more than three the property may be classified as a House in Multiple Occupation (HMO) and additional regulations may apply.
What areas of the property will the tenant use?
The tenant has exclusive use of a bedroom at the property but also has the right to use other parts of the property that are shared with other tenants. These areas are known as the common areas and are usually the kitchen, living room and bathroom.
How much rent can I charge?
The rent can be set at any level up to £100,000 per year in England and £25,000 in Wales. The rent will be the market rent similar to other lodgings in the area. It is usual to take one month's rent in advance at the start of the agreement.
Can I take a deposit?
The landlord can ask for a deposit to cover the cost of any breakages or damage to the property or its contents. If when the tenant leaves there is no damage or rent due, the money is returned. All deposits must be placed in a Government Authorised Tenancy Deposit Scheme within 30 days of receiving the deposit.
Should I include an inventory?
An inventory is a detailed list of all of the items in the property that the tenant can use. An inventory should always be made as it can be used to prevent disputes at a later time about the condition of items.
Who can end the agreement?
The tenant cannot end the agreement before the end of the term. Termination by the landlord depends on when the notice to terminate is given.
Does this document cover the new ban to tenant fees?
Yes. This document has been amended to be compliant with the Tenant Fees Act 2019. It excludes fees prohibited under the Act, while it also allows for certain damages to be recoverable.
Further advice
Ask a lawyer for:
tenants who want to run a business from the property
student/college accommodation
advice if there are 3 or more prospective tenants that form more than 1 household, as the property may need to be licensed
a property that is outside England and Wales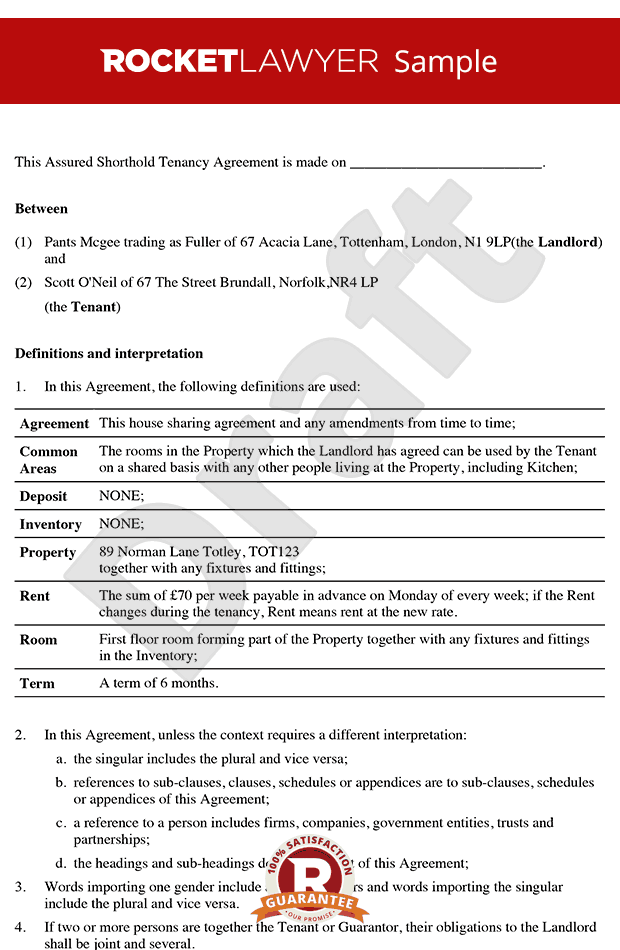 View sample
Sample Room rental agreement
More than just a Room rental agreement template, our step-by-step interview and guidance makes it easy to create your document.
Easily create online, download, print and sign your free Room rental agreement in minutes.
This document is also sometimes called: Agreement for renting a room.