Create your free Second debt recovery letter
How it works
Create your document
Download
& Print
Sign &
Make it Legal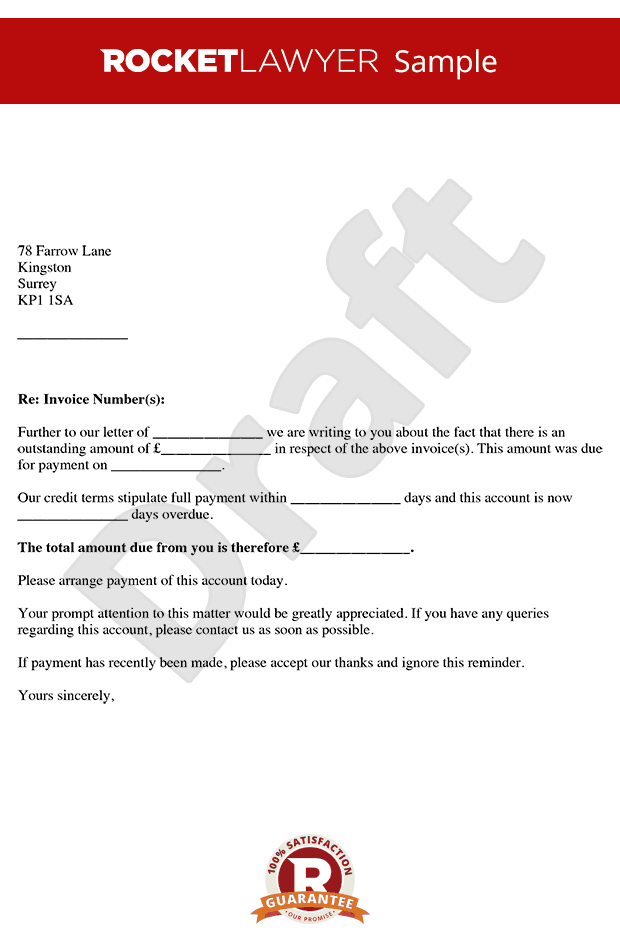 Overview of the Second debt recovery letter
Make sure you follow the right steps to recover a debt that is owing to you or your organisation after you have already issued a payment reminder with this second late payment letter. By using a payment reminder letter you can feel assured you that you have formally reminded and requested your client or customer to make payment. This second reminder letter details all the necessary information from the date the debt is owing to whether interest will be payable to even the threat of further action if the debt is not paid.
When to use this Second debt recovery letter
Use this second debt recovery or payment reminder letter:
to recover a debt that is owing to you or your organisation
to take further action after a first payment reminder letter has been sent and the debt remains outstanding
to commence a more formal procedure for collection of the debt
What it covers
This second debt recovery letter covers:
the amount owing (the debt)
the date the debt owing should have been paid
whether interest is payable on the debt
automatic calculation of the amount of interest to be paid in total
automatic calculation of the continuing daily amount of interest charged as long as the debt remains unpaid
a threat of further action which may be taken if the debt is not paid
Why do I need a second debt recovery letter?
You need this letter when you have already sent a letter to your client or customer reminding them to pay outstanding debt. This is a second reminder to your customer to pay the debt, ensuring that they understand the consequences of not settling the payment (which includes late payment interest charges (for business transactions) and/or a threat of legal action.
You need to send two letters to a client or consumer before you can issue a 'final demand' letter, which is the last step before taking formal action to recover the debt.
Can I use this letter to recover debt from individuals or organisations?
As is the case with the initial debt recovery letter, you can use this letter to further a debt recovery process from both individuals and organisations whether in course of business or not.
Can I claim interest on the debt?
Where there is no contractual interest, you can only charge an interest on late payments if it's a business to business transaction and statutory interest applies. Statutory interest is 8% plus the Bank of England base rate and may be subject to changes. You cannot claim statutory interest if your customer is consumer and not acting in the course of business. In such scenarios, you can only claim interest if the contract sets a contractual rate, i.e. late payment rate specified in the contract.
How much time should you give the debtor to fully repay the outstanding amount?
Unlike the first letter, this second reminder will request that the debtor settle their bill immediately.
What are the next steps?
If after you have sent this second letter and your debtor has still not settled their account, you should issue a Letter before action.
Further advice
Ask a lawyer for advice:
on debt recovery procedures and dispute resolution
on debt recovery outside England and Wales
as to whether an insolvency procedure is appropriate
This letter is used with debts based in England and Wales.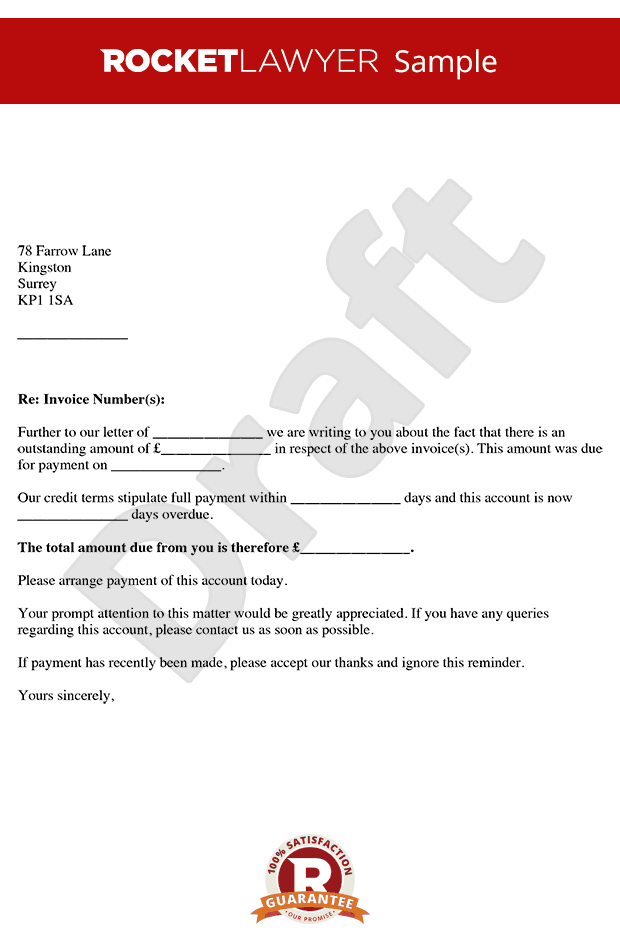 View sample
Sample Second debt recovery letter
More than just a Second debt recovery letter template, our step-by-step interview and guidance makes it easy to create your document.
Easily create online, download, print and sign your free Second debt recovery letter in minutes.
This document is also sometimes called: Second overdue payment reminder, Second payment reminder letter and Second reminder about unpaid invoices .