Create your free Website privacy policy
How it works
Create your document
Download
& Print
Sign &
Make it Legal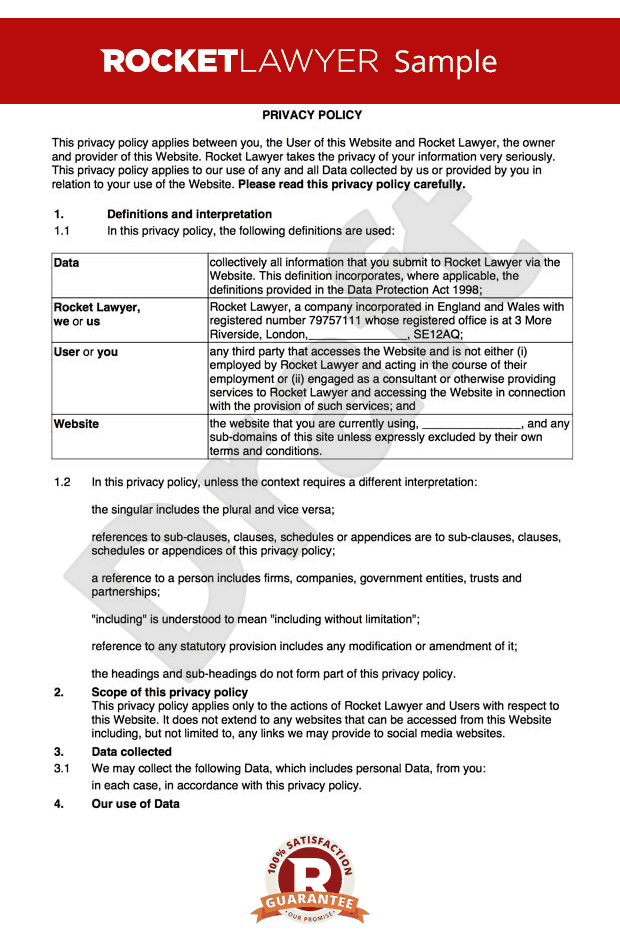 Overview of the Website privacy policy
A website privacy policy (or data protection policy) helps build trust in your website and ensures your visitors personal data is protected. Use this straightforward privacy policy template for any e-commerce, blog, chatroom or other website that asks users to disclose personal information. As well as reassuring online customers and users, it can also ensure that you have their permission to store cookies on their computer. The website privacy policy aims to make your internet business compliant with UK and EU data privacy laws and covers key issues such as use of personal data, links to other websites, passwords and security.
When to use
Use this website privacy policy:
when you collect personal information on the website
to make sure you comply with data privacy legislation
What it covers
This website privacy policy covers:
the nature of data collected by the site
the use of data
linked websites
data security and access
cookies (optional)
transfers of data outside Europe
What is a website privacy policy?
A website privacy policy outlines your business' practices in relation to the collection, storage and use of personal data gathered on your website. Examples of data include names, dates of birth, contact details or credit card details. It sets out the purpose of data collection on your website, the types of information collected and the scope and limitation of data processing on your website.
Do I need a privacy policy?
The collection and use of personal data by online businesses in the UK must comply with the UK data protection laws. This policy is designed to allow the website operator to comply with the fair processing obligation and to obtain the user's' consent to that processing as required by law.
Who is a data controller?
A data controller is defined in the Data Protection Act 1998 (DPA) as a person who determines the purpose and manner in which any personal data is or going to be processed. This means that every business operating in the UK which holds information about individuals is affected by the DPA. If you are a website owner, you will almost certainly be a data controller and therefore be subject to data protection obligations.
What types of information will be collected from users?
It depends on the purpose for which the data is gathered. If you are selling and trading on your website, you may wish to collect your customer's personal data such as names & credit card details. However, the data protection law defines personal data as broad as to include information about personal opinions and IP addresses.
How long should you retain the data of your customers for?
The data of your customers should not be retained for any longer than necessary to fulfill the purpose for which it is being collected on your website. This document allows you to choose between 1 and 12 months.
What are cookies?
Cookies are small text files placed on a user's computer, which are commonly used to collect personal data. Most website operators place cookies on the browser or hard drive of their user's computer. Cookies can gather information about the user's use of the website or enable the website to recognise the user as an existing customer when he returns to the website at a later date. The law protects users of your website and lets them opt out from the use of cookies on their website browser.
This document allows you to specify the types of cookies, their purpose and the method that will be used to gain consent of the user for the use of these cookies.
Further advice
Ask a lawyer for:
websites collecting sensitive personal data
This privacy policy is governed by the law of England and Wales and complies with UK and EU data privacy legislation.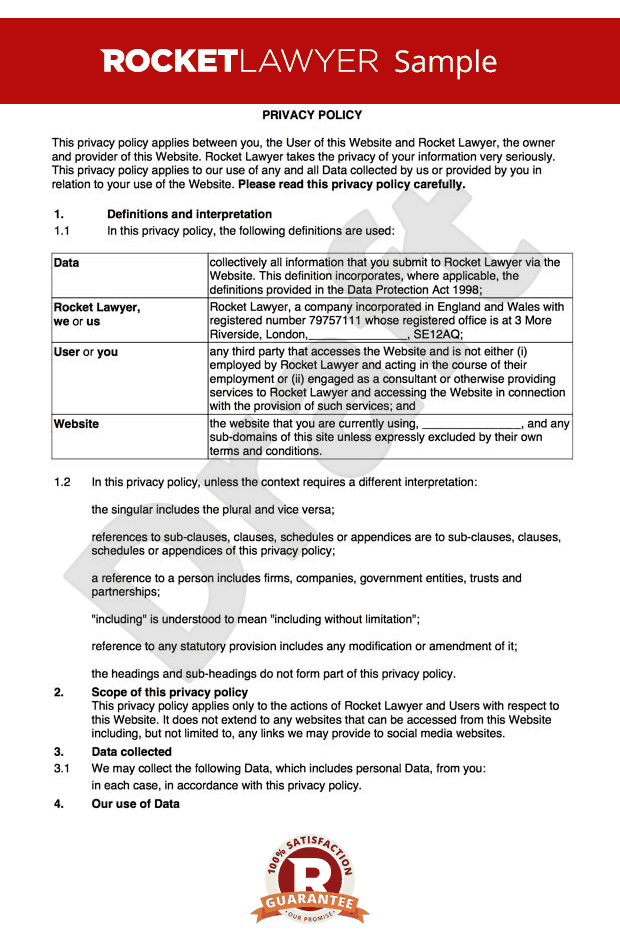 View sample
Sample Website privacy policy
More than just a Website privacy policy template, our step-by-step interview and guidance makes it easy to create your document.
Easily create online, download, print and sign your free Website privacy policy in minutes.
This document is also sometimes called: Privacy policy for a website, Data protection policy or Online privacy policy.