Create your free Zero hours contract
How it works
Create your document
Download
& Print
Sign &
Make it Legal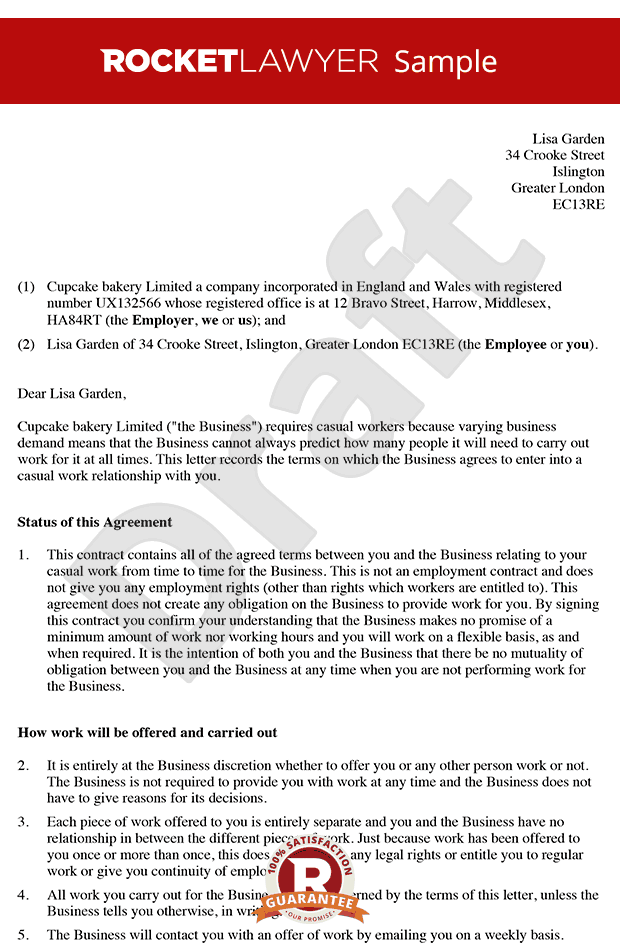 Overview of the Zero hours contract
This document is GDPR compliant.

A clear zero hours contract is vital where a business wishes to hire casual workers as and when they are needed and are not able to promise a set number of working days or hours or any future work. A good zero hours contract will cover key areas such as the practical arrangements for how work will be offered and carried out, as well as clauses you would typically see in an employment contract like place of work, hours, holiday, pay and termination arrangements. Exclusivity clauses in zero hours contracts are now banned and unenforceable.


When to use
Use this zero hours contract:
when you want to hire a worker on a casual or temporary basis to cover emergencies or unknown or changing demand
when you want the flexibility of workers who will not be promised set hours of work or any future work, but are available when required
if the worker has other commitments, eg childcare or studying
only for workers based in England and Wales
What it covers
This zero hours contract covers:
the type of work that will be offered to the worker and how it will be offered and carried out
terms relating to pay and benefits
the place of work, agreed hours and holidays
terms relating to sickness
arrangements for ending the agreement
What is a zero hours contract?
A zero hours contract is an agreement between a business and an employee where the business does not guarantee any set hours for future work. It sets out such things as the type of work that will be offered, terms relating to pay and benefits and agreed hours and holidays.
Why do I need a zero hours contract?
A zero hours contract is useful when you cannot guarantee hours for employees or want them to have flexible working arrangements.
Zero hours contracts are frequently used where the demand of work fluctuates, for unexpected or last-minute events, or for on-call/bank work.
What is the difference between zero hours contract and employment contract?
The key difference between a zero hours contract and an employment contract is that a zero hours contract does not require an employer to offer work or for workers to accept it.
Are individuals on zero hours contracts workers or employees?
Individuals on zero hours contracts can be workers or employees. This will depend on their employment status.
Zero hours workers are entitled to basic employment rights such as annual leave, the National Minimum Wage and National Living Wage and pay for work-related travel in the same way as regular workers.
Can an employment relationship arise based on zero hours contract?
A zero hours contract creates a 'worker' relationship. An 'employee' relationship may be developed over a period of time. In most scenarios, zero hours contracts mean that an employer recruits a 'worker' at first. However, the way the working relationship develops over time may enhance the employment status of the worker. The zero hours contract reflects the intentions of the employer to only treat 'workers' as such as not full-time employees. In some circumstances, if a dispute arises in the Employment Tribunal, it has the power to decide the contractual relationship that exists between the employer and worker.
Is the worker under a zero hours contract eligible to holiday pay and/or sickness pay?
A worker under zero hours contract is entitled to annual leave (holiday pay), sick pay and the National Minimum Wage and National Living Wage. They don't normally have the "employee" status, which would allow them to claim for unfair dismissal, maternity pay and leave, flexible working or statutory minimum notice.
How can this agreement be terminated?
An employer has the right to end this agreement immediately in writing if a worker has committed serious breach of its terms or committed gross misconduct such as dishonesty, theft and misuse of drugs. A worker can terminate this agreement by informing the employer as soon as possible in writing that they no longer want to be considered their casual worker.
Further advice
if you intend to create an employment relationship (i.e between an employer and employee) under a zero hours or other contract
for workers based outside England and Wales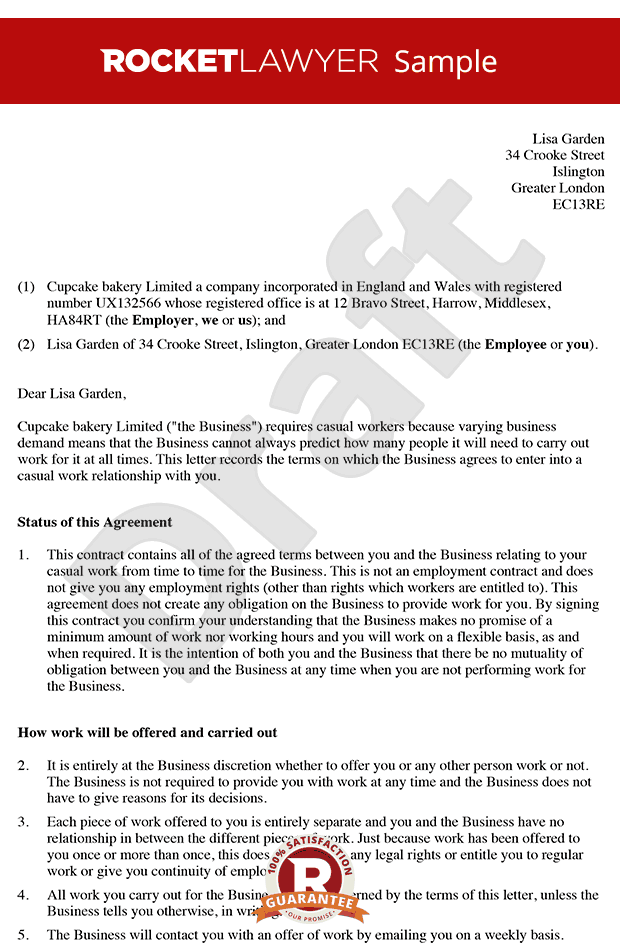 View sample
Sample Zero hours contract
More than just a Zero hours contract template, our step-by-step interview and guidance makes it easy to create your document.
Easily create online, download, print and sign your free Zero hours contract in minutes.
This document is also sometimes called: Nil hours contract and 0 hour contract .